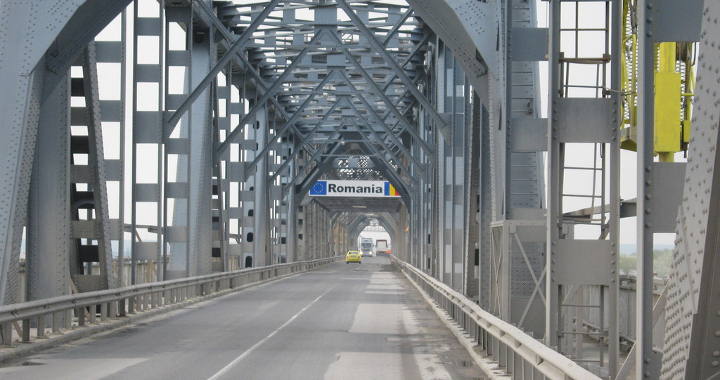 By Clive Leviev-Sawyer – The Sofia Globe
Long queues of goods trucks have formed at Bulgaria's ferry port at Svishtov because of traffic restrictions at Danube Bridge, ordered after a gaping hole widened at the bridge that links Bulgaria with Romania.
Bulgarian border officials were working to facilitate traffic but still there were queues, local media said on the morning of April 9 2013.
The hole in the Danube Bridge opened this past weekend, leading to a ban on the bridge being used by vehicles of more than 10 tons, while the narrowing of the lane being used also interfered with ordinary car traffic.
It remains unclear when the hole, now about a metre across and through which the railway line below the road route over the bridge is clearly visible, will be repaired.
Current estimates on April 9 are that restrictions on the bridge being used by vehicles of more than 10 tons will remain in place until about April 13.
The hole has been temporarily covered with metal plating. Inclement weather conditions are making it difficult to say when serious repairs will be done.
Traffic is being redirected to ferry links at Svishtov, Silistra and Vidin. Svishtov is the most popular choice for diverted traffic because it offers the potentially shortest trip to Romania.
The two ferries can take nine trucks and more than 200 lorries were reported to be waiting to make the trip.
The freight truck parking area at Rousse was reported to be full on the morning of April 9.
Local media said that drivers of trucks carrying perishable goods were worried that the food might spoil if they had to continue to wait to cross the Danube.
Reports said that the drivers, many of them from Turkey and Moldova, were tense and frustrated and on April 8, a shouting match between two drivers came close to a fistfight.
One driver told local media, "my freight is supposed to be in Germany by Thursday and how this will happen, I do not know".
Customs officials at Svishtov said that the facility could not process more than eight to 10 vehicles an hour.