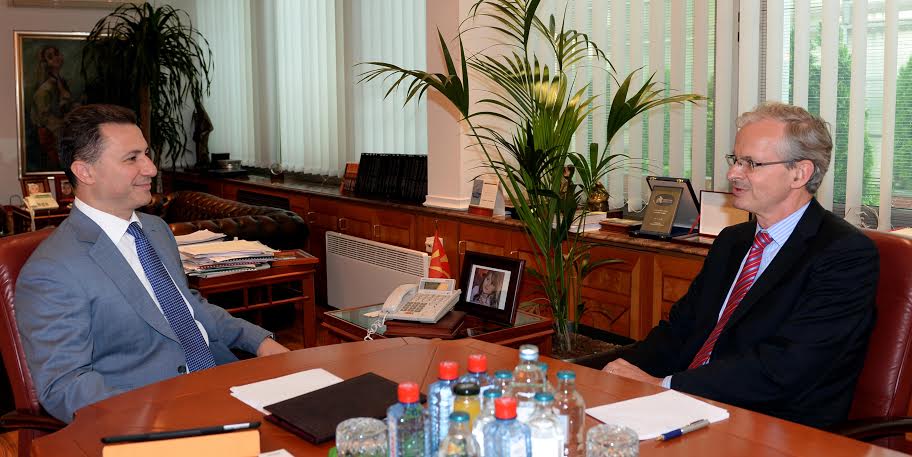 Skopje, June 5, 2014/Independent Balkan News Agency
By Naser Pajaziti
Director at the European Commission Enlargement Directorate, Christian Dannielsson has arrived for a two day visit to Skopje, where he has had meetings with prime minister Nikola Gruevski and deputy prime minister for European integration, Fatmir Besimi.
Danielsson has also met the leaders of LSDM (Macedonian Social Democratic League) and BDI (Democratic Union for Integration).
The senior official of the European Commission will continue his visit today in Skopje with a round table to discuss the process of the integration of the country in the EU, reforms and the European agenda.
So far there haven't been any releases for the media, but the government issued a statement on the meetings that took place behind closed doors.
According to the government press statement, Gruevski and Danielsson have praised the dialogue established between Skopje and European Commission. "Gruevski said that the reforms, economic and social progress will continue, while the elections and formation of the new government were a special topic of discussions", reads the government statement.
The meeting also discussed the recommendations of OSCE/ODIHR and complaints on the April 27 elections, where Gruevski has pledged that he will analyze them.
According to the government's statement, Danielsson has underlined the need for political dialogue through institutions and the need of productive political debates from all political factors in the country.
Meanwhile, deputy prime minister Besimi said that there will be commitment in order to address the priorities that relate to the reforms in the judicial system, fight against corruption, freedom of speech and media, cross ethnic relations and good neighborly relations.
Opposition addresses public questions to the prime minister and president
The largest Macedonian opposition party, LSDM has addressed a question to prime minister Nikola Gruevski as to why "Macedonia was left behind Albania in the European integration process".
"Honorable Nikola Gruevski, instead of manipulating through the media that you control, please explain to the citizens of Macedonia as to why our country remained behind Albania in the European integration aspect. European commissioner for enlargement, Stefan Feule postponed his visit to Skopje following the criminal elections. This is an adequate indicator as to the content of the EU report toward Gruevski and his power", says LSDM.
This party further adds that it has a question for the president of the country, George Ivanov.
"As Gruevski's Mentor", Ivanov must answer if he went to Brussels to provide explanations or not", says LSDM. /ibna/