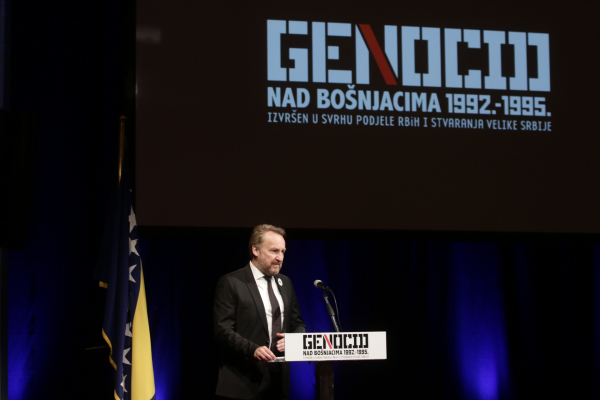 As the deadline for complaints on the International court of justice in Hague – in the case of BiH against Serbia for genocide – approaches, more and more voices among the Bosniak nation representatives  are beginning to surfuce about the demand for revision of the verdict.
Ten years ago this court ruled that there are no evidence to support the responsibility of Belgrade in the genocide in Srebrenica and that the genocide took place in this enclave but not in the entire BiH.
A team of BiH lawyers is ready to demand the revision of verdict before the deadline expires, on February 26. This was confirmed by the president of the Justice for Bosnia and Herzegovina Foundation, Fadila Memisevic. She said that the outcome of this new procedure should lead to a catharsis, and that Serbia should face the truth about the events in its past.
"We do not have to cope with the past, and that is important. So there are no steps forward in the region, there are no attempts to overcome the past, she said, recalling that at the scene there is still continued denial", stigmatization and minimization of the genocide.
This initiative is dangerous for the future relations of BiH and Serbia, which were in the process of normalisation, but which in last several months have remain stagnatrf. Or, as many argue, have taken a turn to the worse.
The "oil on the fire" was thrown by Bosniak member of BiH Presidency, Bakir Izetbegovic, a few days ago when he said that he will be glad to see the president of Serbia, Tomislav Nikolic, in official visit to Sarajevo.
"I would like to met him and to tell him everything directly in the face", Izetbegovic said.
He was evidently very angry, when Nikolic attended the celebration of RS Day, which is proclaimed as unconstitutional. What "everything" means however, Izetbegovic didn't want to explain.
The current Chairman of BiH Presidency, Serb member Mladen Ivanic, said to the media that he will not allow that to happen.
"I think they won't succeed and they shouldn't even try", Ivanic said, commenting this issue.
Ivanic said that Bosniak representatives could only invoke a certain decision from ten years ago and have the same agent who represented them in that time. He believes however that this would absolutely be legally unfeasible and illogical. Ivanic emphasised that he had made it very clear that BiH doesn't stand behind any such attempt and recalled that, in 2016, he had sent a letter to the International Court of Justice in Hague stating that there was no agreement on the revision of the verdict.
For RS president and leader of Alliance of Independent Social Democrats, Milorad Dodik, this issue is very important and, together with Croat member of BiB Presidency and leader of Croat Democratic Union, Dragan Covic, said that it is unacceptable. After the meeting in Banja Luka on Thursday, Dodik said to reporters that any kind of activities regarding the matter should be dismissed and warned that if the Bosniak politicians did something similar unilaterally, it would represent an abuse of procedures and functions.
But,it is important to say that all Bosniak representatives in the last several years were not talking about genocide in Srebrenica but about "genocide over Bosniaks in the entire BiH committed by Serb aggressors". What's interesting is that no one of the Serb political or judicial representatives react on this, leaving Bosniaks to take the path for the revision of the ICJ verdict./ΙΒΝΑ