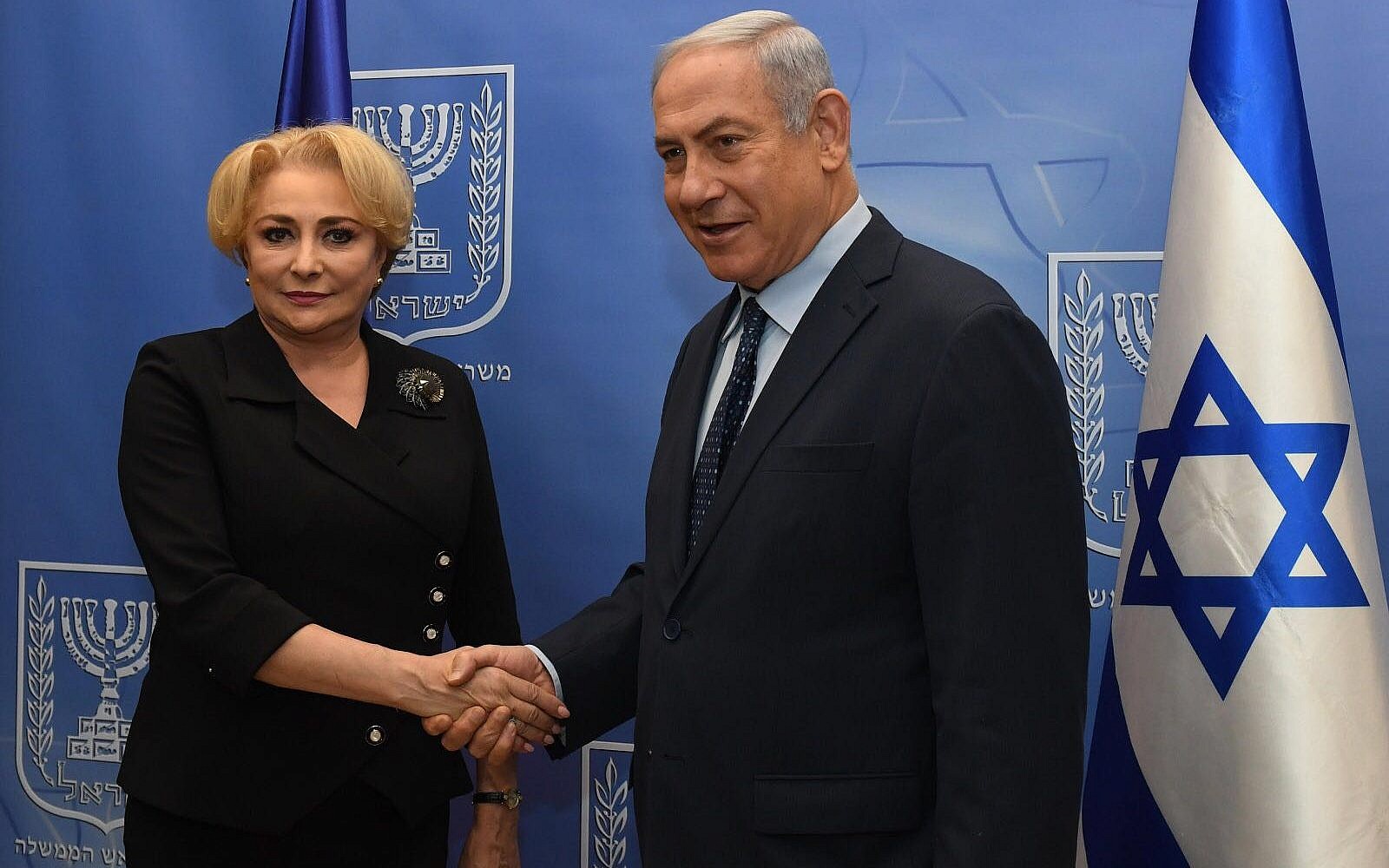 On Friday, Romanian Prime Minister Viorica Dancila will meet her Israeli counterpart, Benjamin Netanyahu in Varna, Bulgaria, on the sidelines of the 5th Quadrilateral Summit of Bulgaria, Greece, Romania and Serbia. 
A top issue will be the twice delayed joint government sitting, on which Dancila commented on Thursday.
"The joint sitting has not been delayed because of us. I understood there have been problems in Israel. We will reschedule the sitting. I think we will establish the joint government sitting at the meeting I have with Benjamin Netanyahu on Friday."
Another issue of great importance will be the relocation of the Romanian embassy in Israel, from Tel Aviv to Jerusalem, following Washington's similar move.
Romania's government and the presidency are on opposite sides on this, with the head of state, Klaus Iohannis disagreeing with the move. Netanyahu spoke about the matter in question and said:
"I do not get involved in the policy of other states. We just ask them to accept things the way they are. Jerusalem has been the Jews' capital since at least 350 years. I think the president admits what it is difficult, what it is obvious. Of course Jerusalem is the capital and the U.S. embassy should be relocated to Jerusalem and I think the other states will follow this pattern. It will happen with Romania, and with other states. Not only that I am certain, but I know this thing-I am sure Romania will consider this situation and a decision will be taken, so that the embassy could be moved to Jerusalem."
On April 25, PM Netanyahu had met his Romanian counterpart in his Jerusalem office, with the two officials agreeing on holding a G2G meeting in Romania in the coming months.
Israel's premier had expressed appreciation for the Romanian government's approval of a draft decision on initiating the transfer of the Romanian Embassy to Jerusalem and had welcomed the statements of the president of the parliament in support of the move.
Israel the "newbie"
Israel seeks to strengthen co-operation with Bulgaria, Greece and Romania. Romania Journal reads that according to Israeli paper, Haaretz, Tel Aviv looks forward to promoting Israeli policies and revise "the EU's hypocritical and hostile attitude".
The "development" can be considered anything but new. Already since 2010, when Israel decided that Turkish radicalism was a burden Tel Aviv was unwilling to carry, the country began looking for allies in the Balkans and certain EU countries, so as to counterbalance breaking ties with Ankara.
"Since its relations with Turkey crumbled over the past year," Haaretz daily was then reporting, "Israel has begun looking to the Balkan states for new friends and allies. The new initiatives extend to shared intelligence, joint military exercises and boosting tourism, officials say."
"In the past year Israel has expanded relations with Greece and Bulgaria and upgraded its existing ties with Cyprus, Romania, Serbia, Montenegro, Macedonia and Croatia. These states share concerns about Turkey's new radicalism and world jihad's growing influence there and see new opportunities for economic, technical and security cooperation with Israel."…. / IBNA
Main Photo (File): Prime Minister Benjamin Netanyahu (R) and Romanian PM Viorica Dancila April 25, 2018, Jerusalem