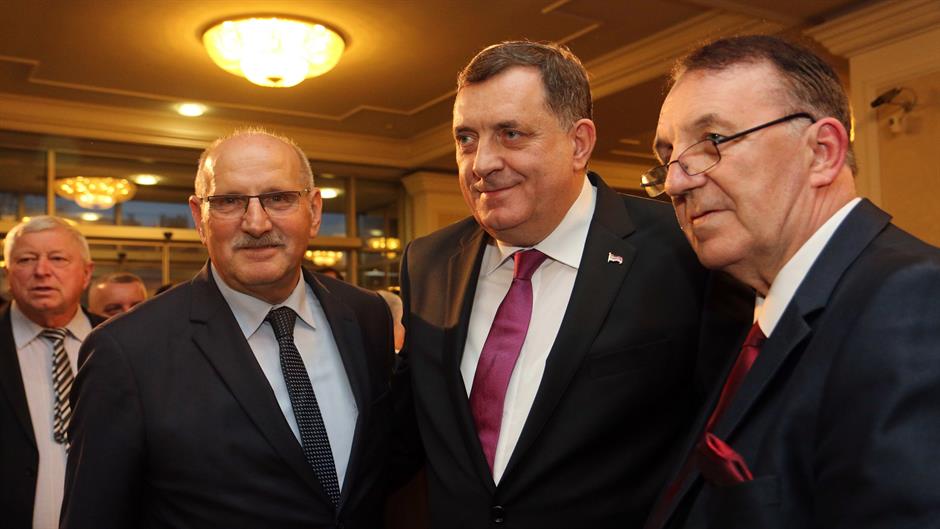 Čak i dan nakon proslave Dana Republike Srpske, 9. januara, u Banjaluci, politička oluja još uvijek traje a izazvala je i diplomatski incident na relaciji Bosna i Hercegovina – Hrvatska.
Bošnjački političari osudili su proslavu kao manifestaciju koja slavi "neustavni praznik" jednog od dva entiteta u BiH. Čak i neki hrvatski političari, kao član Predsjedništva BiH Željko Komšić, ponovili su iste optužbe o nepoštivanju Ustava BiH i odluka Ustavnog suda BiH. Ali, to je ista stara stvar, niko nije bio iznenađen i nije očekivao različite reakcije. Kancelarija predsjednika RS, Željke Cvijanović, pokušala je da objasni da je RS izmijenila Zakon o praznicima i Dan RS sada slavi u skladu sa svim zakonima, uključujući i Ustav.
Više političke diskusije izazvalo je prisustvo hrvatskih političara, Dragana Čovića i Vjekoslava Bevande, kao predstavnika Hrvatskog Narodnog Sabora, na dijelu ceremonija. Najveći problem za bošnjačke političare je prisustvo hrvatskog ambasadora u BiH, Ivana Del Vechija, na svečanom prijemu u zgradi Vlade RS.
Dragan Čović je politički saveznik srpskog člana Predsjedništva BiH, Milorada Dodika, i njegovo prisustvo nije bilo neobično. On i Dodik su već najavili blisku saradnju stranaka koje vode, Dodikovog Saveza nezavisnih socijaldemokrata (SNSD) i Čovićeve Hrvatske demokratske zajednice (HDZ), ali je dobro poznato da ova saradnja traje već nekoliko godina.
Bošnjaci nisu bili uvrijeđeni prisustvom Bevande, koji je potpredsjednik HDZ-a, ili potpredsjednika Republike Srpske, Josipa Jerkovića. Kao reakcija na prisustvo Del Vechia, predsjednik Vijeća ministara BiH Denis Zvizdić izjavio je u postu na Twitteru da će prekinuti sve veze s Del Vechiom. Šefik Džaferović, bošnjački član PRedjedništva BiH, je na konferenciji za novinare u Sarajevu osudio prisustvo Del Vechia na prijemu, dodavši da će izbjeći sve lične kontakte s hrvatskim ambasadorom.
Prisustvo hrvatskih predstavnika osuđeno je čak iu Hrvatskoj gdje su političari uglavnom govorili da to nije nešto što su morali uraditi. Pritisak je bio visok i Čović je na Twitteru rekao da je "vrijeme da zaboravimo prošlost i okrenemo lica prema zajedničkoj budućnosti".
Del Vechio je rekao medijima u BiH da je bio u Banja Luci kako bi se sastao sa Dodikom na margini ceremonije, kako su se ranije dogovorili. To nije bilo dovoljno da uvjeri svoje šefove da je u redu i da ne podržava Dan RS-a, pogotovo zato što je general Jugoslovenske narodne armije, Slavko Lisica, bio posthumno nagrađen medaljom ovom prilikom. Lisica je u Hrvatskoj osuđen za ratne zločine i to je bio glavni razlog nezadovoljstva političara u Hrvatskoj bez obzira na stranku. Nezvanično, Del Vechio je pozvan u Zagreb na konsultacije, ali rezultat je vrlo neizvjestan – neki predviđaju da se neće vratiti u Sarajevo kao ambasador.
Svi ovi sporovi, kao i obično, trajaće narednih nekoliko dana i onda će se zemlja vratiti na redovne aktivnosti.
Dobra stvar u ovoj situaciji je da građani saznaju da Zvizdić i Čović imaju Twitter račune./IBNA