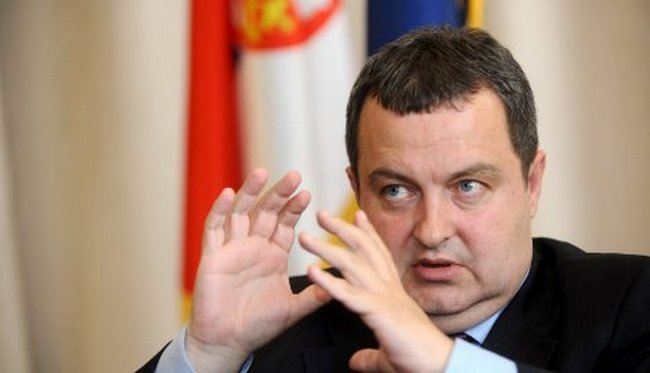 Serbian Foreign Minister Ivica Dacic has told Beta in an interview that his country will play "a constructive role in solving problems in the region."
However, Serbia could vote against the interests of its neighbors who in the past failed to support Serbia on important issues, such as the recognition of Kosovo, and Pristina's attempt to join UNESCO.
Dacic said this does not amount to "revenge" but rather "a policy of reciprocity."
Serbia, he added, "will not allow anyone to humiliate it."
Serbia's relations with its neighbors are "burdened" by them recognizing of Kosovo and supporting its membership in UNESCO, he said, but added that this does not mean Serbia will undertake "something bilateral" against these countries.
According to the foreign minister, Serbia wants the issue of Kosovo to have "a permanent solution" but only such that has been reached "through agreement."
He also sees "many problems swept under the carpet in the region, simply waiting to explode, and that's not good."
"That's why Serbia will play a constructive role. Our policy is that of peace, stability, reconciliation, and strengthening of trust in the region, and that is the basis of stability for the whole of Europe," said Dacic.
Asked what Serbia intends to do in order to lower the tension in relations with Croatia, which he appraised as "particularly bad," Dacic said that he will certainly meet with his Croatian counterpart, but added, "Serbia has not made a single move directed against Croatia, on the contrary."
The minister also "expects things to return to normal, for Croatia to behave like a responsible EU member."
Referring to the WW2 Nazi-allied Independent State of Croatia (NDH) and its Ustasha regime, Dacic said that "the renewal of the Ustasha ideology and rehabilitation of the Ustasha criminals" in Croatia "does not contribute to reconciliation, especially at a time when everyone is fighting against rehabilitation of fasicsm, nazism, in this case, the Ustasha ideology."
"Serbia has no problem in relations with Croatia, Croatia has a problem with itself, that is, its own history," Dacic observed.
Asked whether the election day incidents in Montenegro had resulted in deteriorated relations with Podgorica, Dacic replied negatively, and added that the Serbian government "had nothing to do with that."
Serbia wants good-neighborly relations, but Serbia's position toward Montenegro will depend on Montenegro's position toward the issues important to Serbia, he reiterated, and remarked: "Montenegro is to us the same as Papua New Guinea."
The same goes for FYR Macedonia, he continued, adding that Serbia "made a mistake when it recognized that country under its constitutional name ('Republic of Macedonia')," considering that Skopje later recognized Kosovo as independent.
"Serbia made a big mistake there. All of Europe and the world are using the name 'Former Yugoslav Republic of Macedonia' (FRYOM), whereas we slapped our brothers the Greek, and now expect the Greek not to recognize Kosovo – while we recognized Macedonia by insulting the Greek, and they (Macedonians) are always voting in favor of Kosovo. I must say, we've been the fools. There, I'll use an undiplomatic term," the minister said.
Dacic also revealed that Belgrade will continue to use FYR Macedona's constitutional name in bilateral relations with Skopje, but will multilaterally, use the name used by the EU and the UN – i.e., FRYOM.
The role of a country's foreign policy is to defend state and national interests in the best way, he also said, noting he was "not at all longing for the former common state (Yugoslavia)."
"I wish we never united in the first place, and that we (Serbs) instead in 1918 created the state of Serbia as a victorious power… We gave everything to Yugoslavia… to end up being lectured and slapped by someone from the outside over Serbia's behavior. I'm not really an adherent of us turning the other cheek to them. They'll respect you only as much as you're strong and ready to stand up for yourself. I can't wait for some issue that is important to Macedonia, to Montenegro, to crop up in international organizations. Then we'll see what stance Serbia will take," Dacic said./IBNA
Source: B92