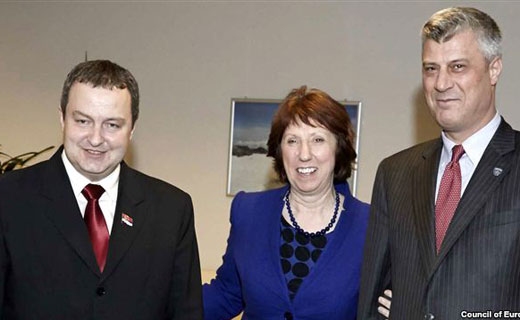 Review Hari Stefanatos
Ivica Dačić and Hashim Thaci participated in a panel "on relations between Serbia and Kosovo, moderated by EU High Representative Catherine Ashton", on Sunday, according to a report by Beta.
They both stated that they are ready to "to offer Serb and Albanian people peace and prosperity", with both PM's agreeing that "besides bilateral relations, the relationship with Europe is also crucial", according to the official site of the Munich Security Conference (MSC).
Ashton stressed that the two prime ministers have already spent "220 hours talking on the normalization of relations between Belgrade and Priština".
In regard to the parliamentary elections that will be held in Kosovo, Dačić urged Kosovo Serbs to participate saying that "local elections were held with the active participation of Kosovo Serbs. Serbs should vote in parliamentary elections. The main question is how to convince Serbs in northern Kosovo to be constructive and that cooperation is in their interest".
Thaci also called on them to cooperate, according to Radio Free Europe. On the matter of the mayor elections that will be repeated on February 23, the prime minister of Kosovo promised full cooperation in solving practical everyday problems to the new town administration, according to the same report. He was quoted saying that "local leaders say they are willing to cooperate and I cannot wait to begin to solve practical issues".
Thaci also commented on the signing of the normalization of relations agreement, in April 2013, saying that "Serbia and Kosovo freed themselves from the past and are now on better terms than they were a year and a half ago. We're trying to implement it, but need to do more".
Pointing out the progress that has been made in the normalization of the two side's relations Dačić pointed out that " at our first meeting the question was whether we would even shake hands, and now that nobody asks us that any longer. Nobody expected us to be where we are now".
"The political status of Kosovo is resolved. Kosovo is an independent state and it is irreversible, and the normalization of relations is in the interest of all," Thaci stated.
Dačić, Thaci and Catherine Ashton will meet for a new round of dialogue on February 12 in Brussels.
(Source b92)