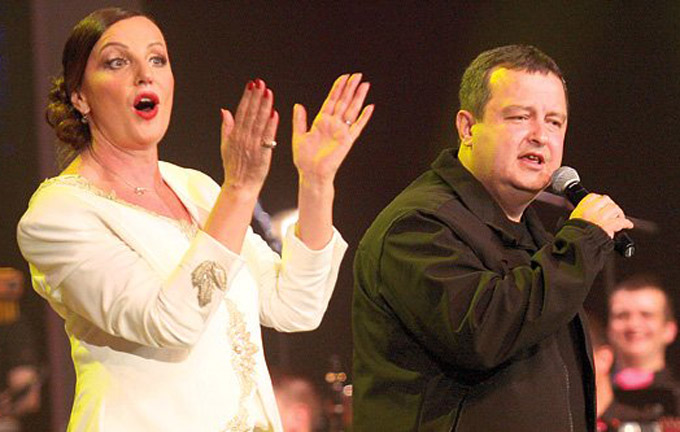 By Miloš Mitrović – Belgrade
It is well known that Serbian prime minister Ivica Dačić publicly sings nothing but "Miljacka", song by Bosnian folk star Halid Bešlić, but this weekend he had changed his repertoire by performing Russian war songs, Voice of Russia (VOR) noticed in its comment published on Monday.  Dačić singed legendary "Katyhsa", the song composed on the eve of the World War II to inspire the Red Army soldiers for the fight.
The Soviet multiple rocket launchers BM-13, BM-8, BM-31 that had devastating effect on both Nazi weapons and the morale of the German army were nicknamed "Katyusha" from Mikhail Isakovsky's popular song. "Germans were shooting everybody who singed that song", VOR recalled.
On Saturday and Sunday the manifestation "Days of Serbian-Russian Friendship" was held in Serbian Tara Mountain with the attendance of PM Dačić, president of Republic of Srpska Milorad Dodik, Serbian Orthodox Church Patriarch Irinej and the representative of the Russian Patriarch Kiril. The official hosts were Serbian and Russian children, which were both performing dances and songs and learning Slavic history. The high officials were welcomed traditionally with bread and salt by the Russian girl. Afterwards, the anthems of Russia and Serbia were performed.
Ivica Dačić stressed that Tara Mountain "friendship school" had two objectives – to strengthen the link between the Serbs, which live in a different territories, and to develop the relations of "brotherhood" among the peoples in the Balkan countries. However, he stressed that Russian people is the closest friend of Serbs.
Bishop Ignjatij, the special envoy of the Russian Orthodox Church Patriarch Kiril spoke similarly; he stressed that "nowadays Serbs and Russian should stick together like never before". "Pan-Slavic sole has to be integrated", president of the Republic of Srpska Milorad Dodik said.
"Serbian PM showed again his musical talent. Together with father Sergei, the priest of the Russian church, he singed famous "Moscow nights" and victorious "Katyusha", which was so popular during World War II.  Russian soldiers were encouraging themselves with "Katyusha". Despite it is love song, "Katyusha" has strong patriotic element", VOR stated in the comment adding the stanzas performed by Dačić:
"Song of love her maiden love declaring,
Chase the sun and speed without delay.
Warmest greeting from Katyusha bearing
To the border guardsman far away."
"Nevertheless, it is not completely clear to which guardsman on the distant border would the Serbian Catyusha send her greeting, given the fact that Serbia had recently received numerous suggestions to give up its policy of military neutrality and to join NATO. Considering that Serbian high officials did not commented these suggestions so far, it is reasonable to raise the question whether the love song performed by prime minister Dačić would be devoted to Serbian soldiers deployed in some distant border of Afghanistan, Iraq or some other place", Voice of Russia concluded in its comment.