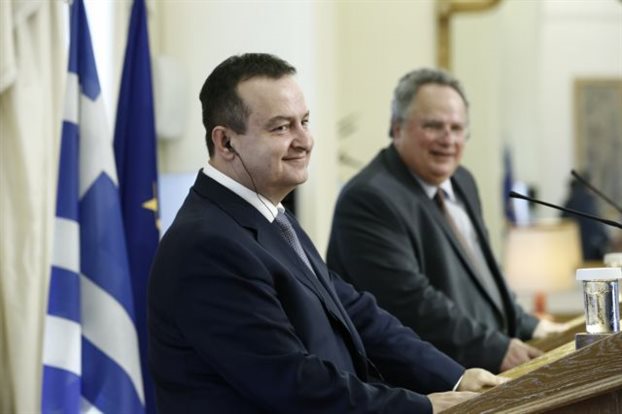 Serbian foreign minister Ivica Dacic has reiterated his position that Belgrade has made mistake by recognizing Former Yugoslav Republic of Macedonia (FYROM) under its constitutional name – "Republic of Macedonia". According to MIA news agency from Skopje, Dacic said this during his visit to Athens on Monday. Serbia has recognized "Republic of Macedonia" back in 1990s.
At the meeting with his Greek homologue Nikos Kotzias, Dacic has said that Skopje has always had "the negative approach considering Serbian stance over Pristina", MIA reported. FYROM has recognized the independence of Kosovo and supported its application to become a member of UNESCO. This Skopje's decisions have enraged Belgrade, the agency recalled.
It was not "fair" from Serbian side to recognize its southern neighbor under its constitutional name, Ivica Dacic allegedly told Nikos Kotzias in Athens.
On Tuesday, FYROM's foreign minister Nikola Dimitrov reacted by sayng that he "regrets" the statement made by his Serbian counterpart.
"Together, we have been the part of a federal country, and we share a lot of things as the Republic of Macedonia and the Republic of Serbia", Dimitrov put on his Facebook account.
"I am convinced that the two friendly nations prefer to have the relations based on mutual respect, understanding and European spirit", he wrote adding that such position would be good "not only for Macedonia and Serbia, but rather for the entire region".
"We should not forget that we are rising and declining together in this region", Dimitrov concluded./ΙΒΝΑ