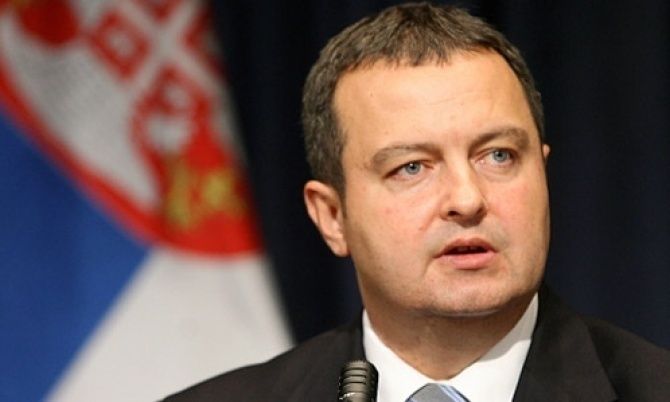 Ivica Dacic must finally decide whether he is foreign minister in the government of Serbia or Russian ambassador in Serbia, Liberal democratic party (LDP) stated today following Dacic's recent statement that if Serbia changes its position on Russia it would mean "suicide" for the country.
Dacic's Socialist Party of Serbia (SPS) responded quickly by saying that LDP "is a completely unimportant party, weaker than the number of invalid votes" in the last elections.
LDP recalled that Dacic in 1990s was spokesman of Slobodan Milosevic "while today he is spokesman of the Russian interests in Serbia". According to LDP, Dacic "uses every opportunity to prove to his superiors in Moscow that he is following their orders, always at the expense of Serbia".
LDP, which waves between ruling and opposition parties, stated it cannot "calmly watch how individuals like Dacic impose the idea of Serbia as a Russian province". "They defend the interests of Serbia in a manner that would, in the end, leave us without political allies and without interests realized", LDP said.
The group said it "would not allow SPS to realize its intentions and destroy the idea of the modern, civic Serbia grounded in European policy".
On the other hand, SPS responded by saying that "LDP obviously lacks ideas in its chase of SPS and its president Ivica Dacic, giving that they are recycling old press releases on Serbia as Russian gubernia which does not deserve an answer".
"When did SPS or Ivica Dacic said or promote something like that? On the contrary, Serbia should not be a Russian gubernia, Brussels's province or American reservation, Serbia belongs to its citizens. And as long as they (citizens) decide LDP and CedomirJovanovic (LDP leader) would remain on the level of statistical mistake. They are weaker even than the number of invalid voted. They are not even invalid, they are unimportant", the SPS concluded./IBNA