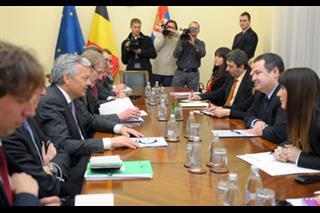 Serbia's Prime Minister Ivica Dacic and Belgium's Deputy Prime Minister and Foreign minister Didier Reynders agreed on Tuesday the two countries' relations were good, but that their cooperation needed improvement.
Belgium is an important economic partner to Serbia, Dacic noted, pointing to the EUR 990 million investment by the Belgian company Delhaize.
"There are around 70 companies that incorporate Belgian capital in Serbia. A delegation of Belgian businessmen will visit Belgrade this week, and a similar Serbian delegation will visit Belgium in a few months," Dacic stated.
Photo Tanjug, Z.Zestic