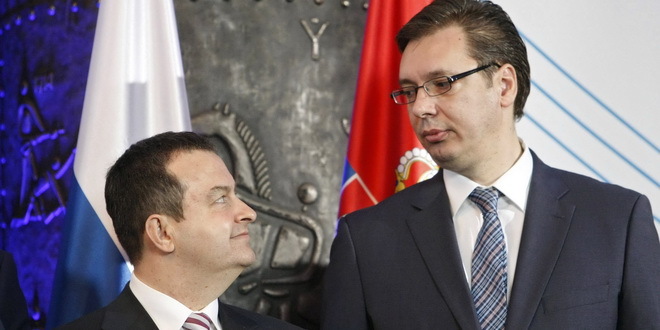 The ruling coalition has not decided yet who will be its candidate in the upcoming presidential elections, Socialist Party of Serbia (SPS) leader Ivica Dacic said today. However, Dacic explained that he is ready to support Aleksandar Vucic, current prime minister, as a candidate; at the same time, he is not willing to uphold the incumbent Tomislav Nikolic and does not "believe" in surveys that suggest Nikolic could win without Serbian Progressive Party's (SNS) support.
SNS, led by Vucic, did not decide on its candidate yet – whether it would be Vucic or Nikolic, or somebody else. Nikolic repeatedly said he would rerun if SNS supports him. Otherwise, according to some accounts, he considers to nominate himself as an independent candidate.
At first Vucic denied that he would run for president – claiming he would rather remain premier – but later he did not exclude such possibility.
SPS, a part of the ruling coalition, "remains committed" to its position that it would support the candidate which could win in the first round; and that is, according to Dacic, Vucic.
Dacic told national television that he was aware of accounts and surveys which say that Nikolic could win without the support of Vucic and SNS. "I cannot wait Nikolic to run without SNS", he said cynically.
"These are nonsenses which has the objective that someone who cannot win becomes a nominee. I would like to see that he (Nikolic) runs without SNS and Vucic. In that case, I would personally, with might and main, support Vucic and he is going to win in the first round", Dacic said.
SPS leader concluded: "Vucic plus Dacic means victory in the first round".
When asked whether he would demand to become prime minister, in return for his support to Vucic, Dacic said that he has already been premier and that he doesn't see why he would request that.
"This is deciding not only about Nikolic, but about all of us. I had a lot of presidents who have made wrong decisions considering presidential elections. We want to win, and not to lose, and therefore we support the winner", the SPS leader underlined./IBNA