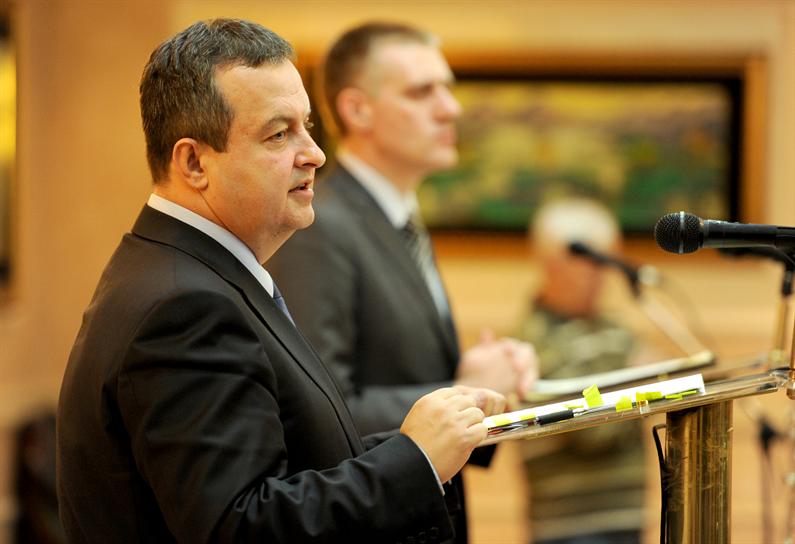 Podgorica, February 17, 2015/ Independent Balkan news Agency
By Adnan Prekic
Foreign Minister of Serbia Ivica Dacic visitied Montenegro in his capacity as chairman of the OSCE. As priorities for the OSCE Chairmanship, Dacic, mentioned further cooperation between the countries of the region. His Montenegrin colleague Igor Luksic in this section has particularly emphasised continuation of the dialogue between Belgrade and Pristina, as one of the crucial regional challenges in the future.
Minister of Foreign Affairs of Montenegro, Igor Luksic, said that the Serbia OSCE presidency happened in not such an easy time. "In Europe there are many challenges, both on the east and on the southern block and in this context, I believe that the priorities that the Serbian presidency defined will be successful. I expressed satisfaction with the cooperation with the OSCE Mission to Montenegro", said Luksic.
He also used the opportunity to welcome continuation of the dialogue between Belgrade and Pristina. "I want to give our support for the outcome of the dialogue between Belgrade and Pristina. We believe that this is a step forward when it comes to solving problems, in order to acknowledge the ambition that this region will reach all European standards as soon as possible. Our expectations are for Serbia to open negotiating chapters as soon as possible", said Luksic .
Dacic expressed satisfaction with bilateral relations between Montenegro and Serbia. "I was always saying that we are fraternal nations, or we could be sisters, because the names of the countries are in the feminine gender. I am pleased that relations between Serbia and Montenegro have completely normalised over the last few years. We wish all the best to Montenegro, to become a member of the EU as soon as possible and we also want the same for ourselves", Dacic said.
Dadic said that Serbia, during the presidency of this organisation, will give its full support to Montenegro. "Our mission in Montenegro is showed by a number of joint projects that are realised, and that is the essence of the existence of the OSCE mission. I am pleased to say that we will give full support to Montenegro for what she has done so far, as well as for what remains to be done. As a priority during the presidency of the OSCE, Serbia  has highlighted the Western Balkans. This means regional cooperation between countries, so I would like to thank Montenegro for signing the declaration of the International Commission on Missing Persons", said Dacic.
This is Dasic's first official visit  to Podgorica since he became chairman of the OSCE. After the discussions with Luksic and representatives of the OSCE Mission to Montenegro, Dasic expressed his satisfaction with the cooperation.