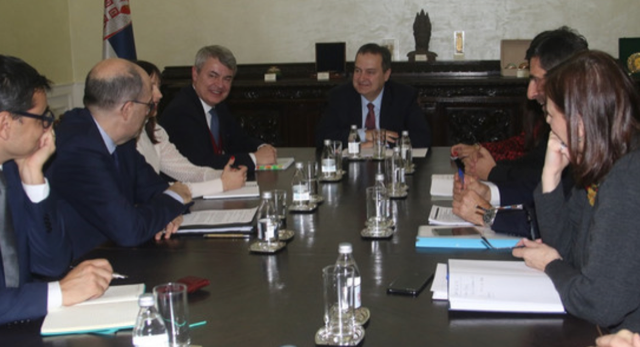 Deputy Prime Minister and Minister of Foreign Affairs of the Republic of Serbia Ivica Dacic met on Wednesday with the Italian Ambassador to Belgrade Carlo Lo Cas and the Italian delegation of the Ministry of Foreign Affairs and International Cooperation, who are on an two-day visit in Serbia for political consultations between the two ministries.
Talks focused on the forthcoming visit of Italian Foreign Minister Luigi Di Maio to Belgrade on February 10, 2020.
During the talks, it was noted that the visit of the Italian Minister is very important, both for the further development of bilateral relations and for cooperation in all areas of mutual interest, as well as for Italy's continued support for the European integration of the Republic of Serbia and the area.
In the past, the Serbian Foreign Ministry has also held bilateral political consultations with Italy. The delegation of the Ministry of Foreign Affairs and Economic Cooperation of Italy was headed by the Director General of the European Union, Vincenzo Celeste, while the Serbian side was represented by the Assistant to the Minister of Bilateral Cooperation, Ambassador Tatjana Conic, and the Deputy Prime Minister and Deputy Minister of European Union, Ambassador Dejan Ralevic.
During two separate meetings, the delegations exchanged views on the process of European integration of Serbia and the region and co-operation in the context of regional initiatives. Special emphasis was placed on the importance of the Italian Republic's continued support for Serbia's European course. On bilateral issues, the high level of bilateral relations, the high frequency of high-level exchange visits and co-operation in the field of economy were confirmed./ibna