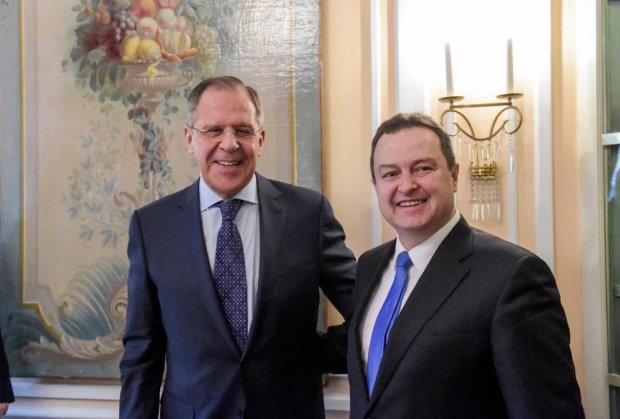 Belgrade, October 10, 2016/Independent Balkan News Agency
Serbian Foreign Minister Ivica Dačić announced that his Russian counterpart Sergei Lavrov is scheduled to visit Serbia mid-December.
Commenting on the media reports about the visit of Russian Prime Minister Dmitry Medvedev, Dačić said that this visit had never even been formally scheduled:
"To be clear, this visit was never even scheduled, but instead it was only unofficially announced," Dačić tells Novosti.
Talking about Lavrov's visit, he noted that this was "one of the world's most important politicians."
When asked whether Lavrov was more important than Russian President Vladimir Putin, Dačić said that "Putin is the most important man, who has helped us a lot," and that he would propose that President Tomislav Nikolić decorate Vladimir Putin."
Medvedev's visit to Serbia became a topic immediately before the forming of the new Serbian government. The process took much longer than expected after the early elections, but at the very end both the media and officials focused on the issue of how much influence do the West and Russia have on the political scene in Serbia.
When the media finally announced the forming of the government, word was that "US Vice President Joseph Biden and Russian Prime Minister Dmitry Medvedev will soon come to Serbia – in August and September."
Politicians themselves talked about it, but while Biden did indeed come to Serbia, there was none additional information on Medvedev's visit.
Finally, a few days ago, Serbian President Tomislav Nikolić's office told Danas that this visit was not going to take place because otherwise, the preparations would have started long ago.
Source: B92