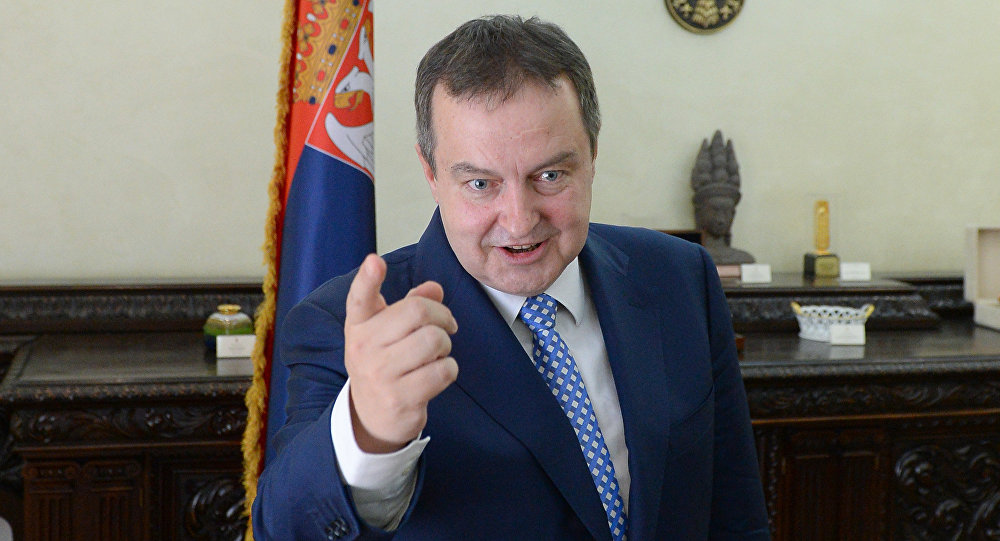 The moment for reaching the compromise on the Kosovo issue is now, said Foreign minister Ivica Dacic today (July 6).
In his view, getting down to compromise means the partition of the territory. "Now, we are offered a good opportunity to resolve the issue of Kosovo and Metohija", he told TV Pink suggesting that better chances could hardly be expected in the future.
Russia, that "has become a superpower has much closer relations with Serbia now than 20 years ago", Dacic said, obviously alluding to the Kosovo crisis in the late 1990s, which led to the NATO intervention and the withdrawal of the Serbian police and military from the province. Explaining his "good opportunity" conclusion, Dacic also said that the foreign policy of the U. S. under Donald Trump's administration has been changed.
Serbia has developed closer relations with Germany, France and Turkey and has become the strategic partner of China, he went on.
"In the ongoing phase… the European Union sees that the Albanians are the main problem on the road of reaching a compromise. Albanians do not want this; what they want is the Serbian recognition of Kosovo and, if possible, to take Presevo, Bujanovac, Medvedja from us", the minister stressed, referring to the towns in the south of Serbia that are of ethnic-Albanian majority. "That would be an ideal solution for them".
He appealed to the Serbian Orthodox Church, the Serbian Academy of Sciences and Arts and to the political parties to present their proposals for the resolution of the Kosovo issue.
Serbia's FM criticised those "on the political and societal scene" who "incite extreme and unrealistic ideas" over Kosovo, and suggest that finding a solution should be postponed "until some better future".
Dacic defended his idea on the partition of Kosovo as being "the best solution", claiming that he is the only one who has made the proposal for resolving the dispute…. / IBNA