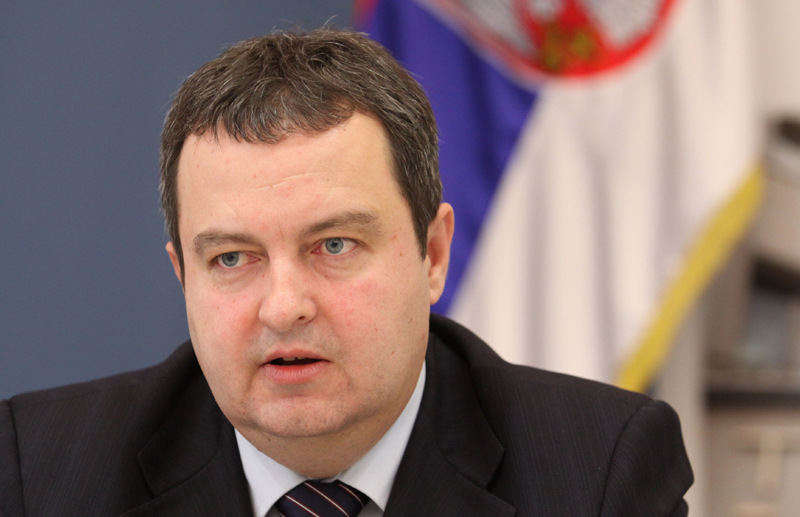 Belgrade, March 13, 2015/ Independent Balkan News Agency
By Milos Mitrovic
The only preconditions set to Serbia considering accession negotiations with the European Union are those from Brussels. When it comes to preconditions from Croatia, there needs to be a distinction between demands of its members of the European Parliament and the official positions of its government, because these MEP's are not the members of the ruling coalition in Croatia, Serbian Foreign Minister Ivica Dacic said commenting on his visit to Zagreb earlier this week.
In the interview for Blic daily, Dacic said that rationality must prevail in the relations between Serbia and Croatia. When asked whether he expects new Croatian President Kolinda Grabar-Kitarovic to be favorable to Serbia, he answered: "I don't expect from anybody to love us neither to over-express their love (to Serbia). At the same time, I do not expect too much expression of hatred. Love and hatred are emotions, its irrational behavior. We should be rational".
During his visit to Zagreb, the main issue was the ways to improve bilateral relations, and "especially to use positive momentum – Prime Minister Aleksandar Vucic's attendance at new (Croatian) President's inauguration", Dacic said. He stressed that Grabar-Kitarovic has sent her greeting to both Vucic and Serbian President Tomislav Nikolic, who decided not to attend her inauguration in February.
Nikolic explained he couldn't go to the ceremony in Zagreb because it has coincided with Serbia's national holiday. But Serbian media claimed that Nikolic was dissatisfied with some provocative statements of Grabar-Kitarovic. However, Vucic traveled to Zagreb instead, in order to demonstrate Serbia's constructiveness and its responsibility towards the Serbian minority in Croatia, analyst say.
According to Dacic, Grabar-Kitarovic said that she wants to visit Belgrade, and he has told her, as he explained, that she would be welcome.
Vucic had previously called new the Croatian President to visit Serbia, but President Nikolic reacted by saying its Croatia's turn to host the President of Serbia. Namely, Grabar-Kitarovic's predecessor Ivo Josipovic has visited Belgrade and, according to rules of diplomacy, the Serbian President should make a return visits. However, experts say improving the relations is more important than formalities.