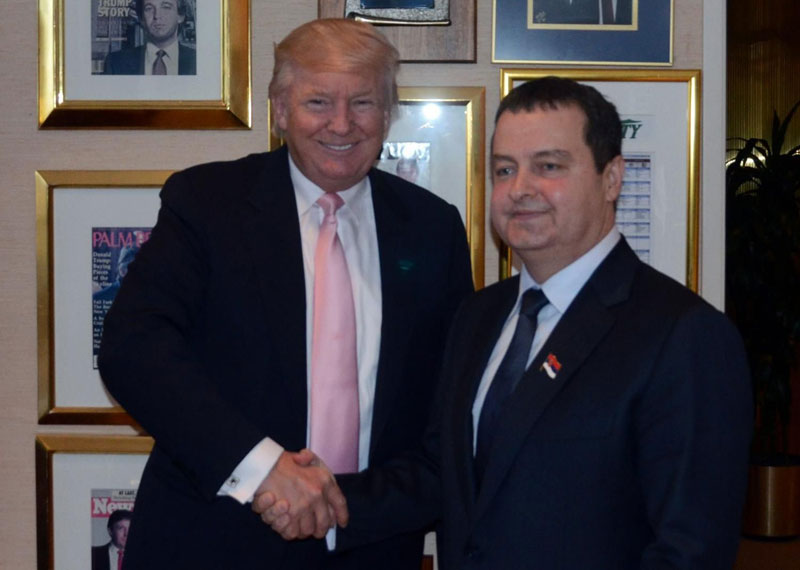 Review by Christos T. Panagopoulos –
Serbian Prime Minister, Ivica Dacic, stated in New York on Wednesday that U.S. businessmen and investor Donald Trump is interested in the construction of a prestigious hotel in Belgrade and that he will send a team of his associates to Belgrade to find the adequate location in the next two months.
We discussed the possibilities of Trump's investments in this part of the world, primarily in the fields he is currently interested in, Dacic said after the meeting Trump in New York where he attended the UN Security Council session late on Tuesday.
Dacic believes that there is a lot of interest in the project, and he said that it was agreed that a team of Trump's associates should visit Serbia to discuss the technical matters and find the location for the construction of a prestigious hotel within Trump's chain of hotels.
Dacic said that this would be good news for Serbia and Belgrade and added that it would contribute considerably to the country's image abroad and increase its attractiveness for other serious investors.
The prime minister said that the meeting also covered other sectors, such as energy.
Trump holds office as the director of the organization dealing in real estate on the global level and he also owns a chain of hotels and casinos, as well as a number of apartment blocks and other facilities.
Source: Tanjug News Agency