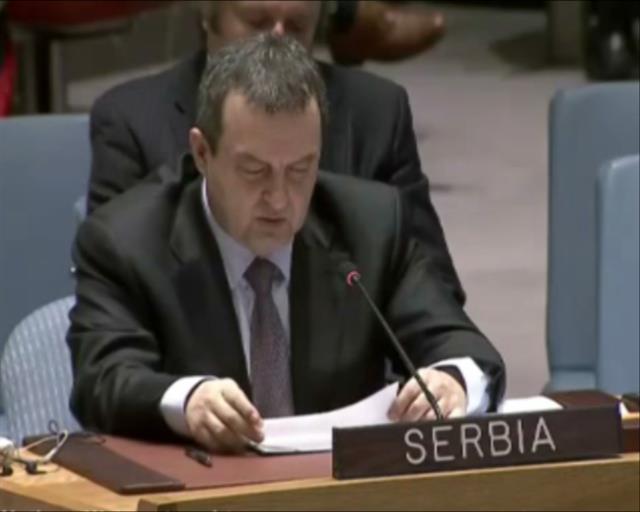 Belgrade, May 17, 2016/Independent Balkan News Agency
By Milos Mitrovic
Ivica Dacic, Serbian foreign minister, appealed to the permanent members of the United Nations Security Council to "show respect" for Serbia and its "legitimate interests". Speaking at the session in New York on Monday Dacic also demanded Vlora Citaku, the representative of Pristina, to refrain from promoting Kosovo's independence at the Security Council meetings, Serbian media reported.
"Citaku makes political speeches. The title of her speech is "Republic of Kosovo", but there's no such thing in communication within UN Security Council", Dacic said.
Dacic also noted that Citaku spoke "of some genocide". "Who has ruled that a genocide was committed in Kosovo", he went on.
The Serbian Minister stated that 17 years have passed since the war in Kosovo, but that Citaku talks of "fresh memories all the time". "How many centuries will this fresh memories last? Should I recall you on the Kosovo battle from 14th century when Serbs were the majority?", Dacic said adding that 200,000 Serbs were expelled from Kosovo after 1999. "Dare to say that", he told Citaku.
Security Council would, in his words, turn into a contest for the best literary work if Citaku continues to talk about "1999 memories".
Considering UEFA's recent granting of a membership to Kosovo, Dacic stressed that football organization has breached its own statute because Kosovo is not a UN member. "All of you who sit at this table should ask yourselves what would happen with some parts of your territories if they become UEFA members. I ask your countries, which are big, to treat Serbia with due respect".
"I do respect United States and Great Britain, but what you have said here does not show any respect (for Serbia). Here, you appeal to member states to recognize Kosovo's independence and say that "only a few" have not done so. But there are seven of them (Security Council members). How can you call it a few", Dacic said.
He concluded that Serbia is a constructive factor in the dialogue with Pristina, which doesn't mean it is weak, he concluded.