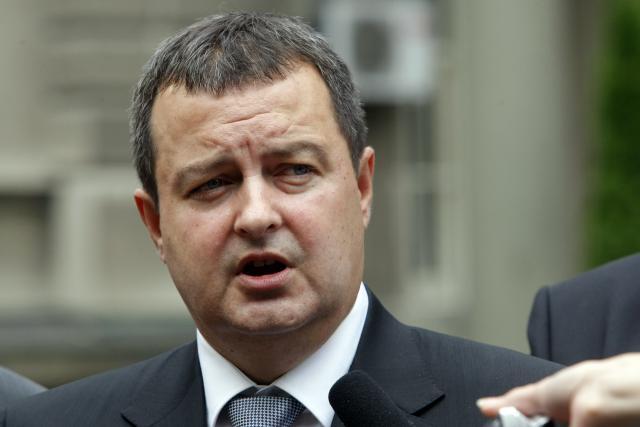 Belgrade, September 21, 2015/ Independent Balkan News Agency
By Milos Mitrovic
If Croatia does not open its border with Serbia for the freight traffic, Serbia will impose counter-measures against Zagreb, Serbian Foreign Minister and current OSCE Chairman Ivica Dacic said in Warsaw today. Talking to journalist on the margin of OSCE conference, Dacic did not specified which measures may be taken.
Croatia has closed the border with Serbia amid the refugees crisis.
"We demand the urgent reaction of the European Union. Why must the traffic be blocked? EU reacts as this is happening on some other planet", Dacic underlined recalling that 150.000 refugees have passed through Serbia so far while 600 have claimed asylum. He asked whether "installing an iron curtain towards the EU" would be the solution.
"We will be forced to take counter-measures. If European countries had used so many military and police forces against ISIL, we would have defeated them until now", Dacic said adding that Serbia "cannot become a concentration camp" surrounded by razor wire.
"What is going to happen when two million refugees from Turkey set off to Europe… If the solution is the refugees to stay in Serbia, it is unacceptable to us".
Earlier today, Prime Minister Aleksandar Vucic said in an interview for Reuters that the European Union has "demonstrated weakness" amid the refugees crisis. In his words, "a number of countries have taken as many (money) as they could from European funds, but… when they faced the first problems and were supposed to show European values they were not able to implement it".
"We would like to be part of the solution and we have already provided assistance, support and services", Vucic said, adding that Serbia, "if asked", would be ready to take "its part of the burden – two, three thousand people to remain in our country".
In the meantime, the Serbian Commissariat for Refugees has registered an increased flow of migrants going towards Croatia. "Obviously, some of the crossings in Macedonia has been tearaway", Commissariat's spokesman Ivan Miskovic said.
At least 4,000 refugees have entered Serbia in the past 24 hours.