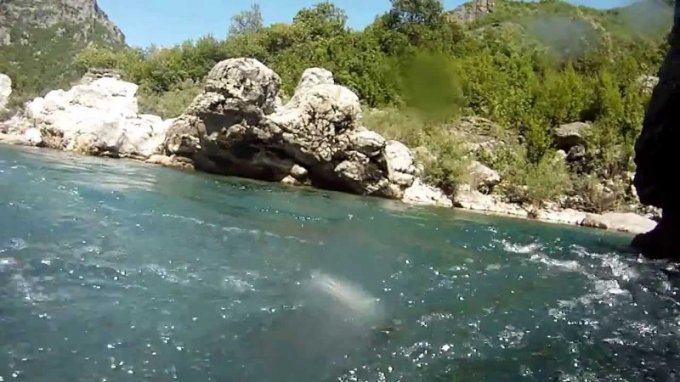 A true horror for the girl who saw her boyfriend disappear. Search continues for the young man. Albanian Rafting Association expresses its criticism for the holding of such unlicensed sport activities
Skader-Tirana, 8 May 20015/Independent Balkan News Agency
A Czech tourist has drowned in river Kir in Skader. The 25 year old young man was along with his girlfriend on a kayak in a river in the commune of Postriba, when his kayak drowned and caused the death of the young man.
The 25 year old girl managed to survive and get out on the shore near the village of Prekal, the commune of Postriba. The couple was accompanied by several other Czech tourists.
Divers are working to find the lifeless body in the waters of Kir river (photo). In this year, Kir river is very violent due to the snow thawing and the large influx of water.
As far as this event is concerned, police said that work is being done to shed light upon the circumstances of the drowning, while the testimony of the survived girl is being taken.
Albanian Rafting Association (ARA) expressed its regret about the accident of the Czech tourists while rowing in Kir river.
Blerina Ago, general secretary of the Albanian Rafting Association says that this federation distances itself from this way of organizing tourist and sport activities not licensed by the Association.
"To avoid such tragic events in the future and to discuss the good part of water sports and outdoors tourist activities, sport and tourist guides, they must be offered by legitimate subjects licensed by the Albanian Rafting Association", says Mrs. Ago.
Rafting is an activity which must be offered by companies/legal entities recognized by the Albanian Rafting Association. It must be conducted by professional guides licensed by this association. They must be equipped with the necessary permit and most be equipped with the appropriate gear used for this purpose.
As far as today's incident is concerned, Ago says that the Czech tourists have sailed in Kir river without being accompanied by professional guides licensed by the Albanian state.
"After conducting an inquiry, ARA has identified and denounced several cases where different Albanian physical/legal entities engage in organizing rafting journeys in different rivers of Albania without a license, without professional guides and without the necessary gear, thus endangering the life of tourists and the image of the activity of rafting and Albanian tourism", Ago says.
ARA demands the cooperation of state responsible institutions in providing security during the activity of rafting, including the respective structures that verify the legitimacy of subjects that exert this sport and tourist activity in the entire territory of the Republic of Albania.
Czech citizens have constantly experienced such tragic events in Albania. Tourists often lose their life in Albanian mountains, especially in the Alps. Some Czech tourists have not been found even to this day, after disappearing for years in the Albanian mountain areas. A while ago, other Czech tourists suffered an accident in the Albanian alps. /ibna/