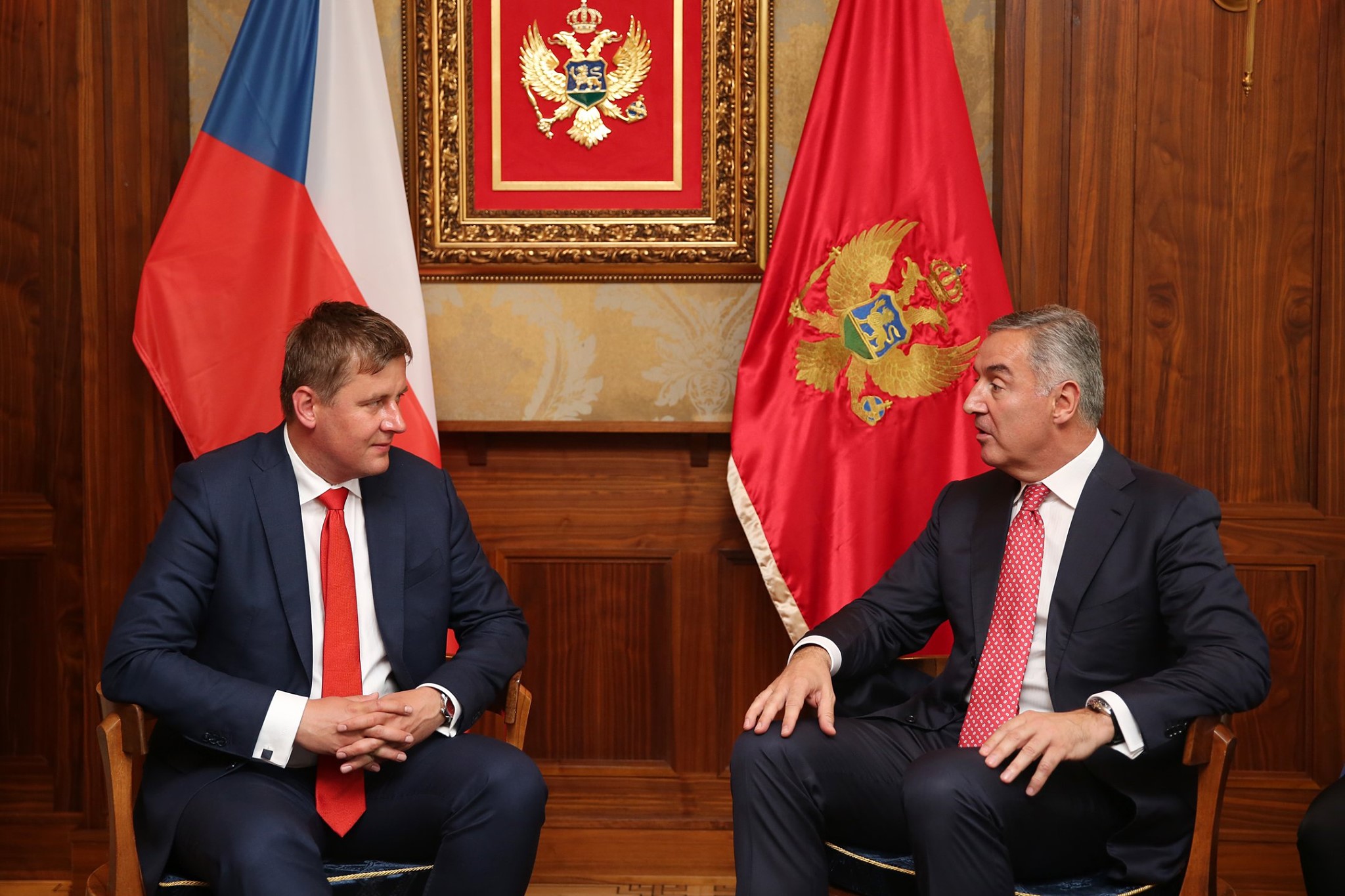 Czech Republic Minister of Foreign Affairs, Tomaš Periček, is paying an official visit to several countries in the region. Today he was in Montenegro, where he met several officials including president Milo Đukanović and PM Dušan Marković.
During the meeting, Montenegro president Milo Đukanović expressed his satisfaction with the visit of the Czech FM, noting that regular political contacts are a good opportunity to confirm the exceptionally good and friendly relations between the two countries and an important foundation for interstate cooperation.
He stressed that Montenegro remains seriously and consistently committed to the European future, believing that this is the only way for the region to leave the period of delayed growth and instability.
"If we want to eliminate the consequences of this deep delay, the path is integration, and Montenegro is trying to be a promoter of European values in the region," said Đukanović.
According to the press release issued after the meeting, Đukanović noted that such a stance has led Montenegro to the position of the most developed economy in the region, with a constant trend of growth, while at the same time Montenegro is developing institutions and improving the rule of law, which was confirmed by the accession of Montenegro to NATO. Đukanović pointed out that although there are no precise predictions when the EU door will be open to the Western Balkan countries, Montenegro will be the first next member, whenever it is. "That is why we are not burdened with deadlines but committed ourselves to adopt a European value system and a European quality of life," Đukanović said, adding that integration is as equally important for Europe as a condition for its stability and global competitiveness.
Minister Petriček, along with the assessment of the traditionally excellent relations between Montenegro and the Czech Republic, confirmed the continuity of support for a more ambitious enlargement process for all Western Balkan countries. He stressed that the Czech Republic has always supported a credible enlargement policy in which both sides have to fulfil their obligations, where countries apply for admission meet the requirements, and the EU recognizes progress and rewards it. In this context, he emphasized his support for the start of negotiations between Northern Macedonia and Albania, sending a positive message to the entire region. He expressed his readiness for cooperation with Montenegro and exchange of experiences, stressing that Montenegro is ahead in the negotiation process./ibna