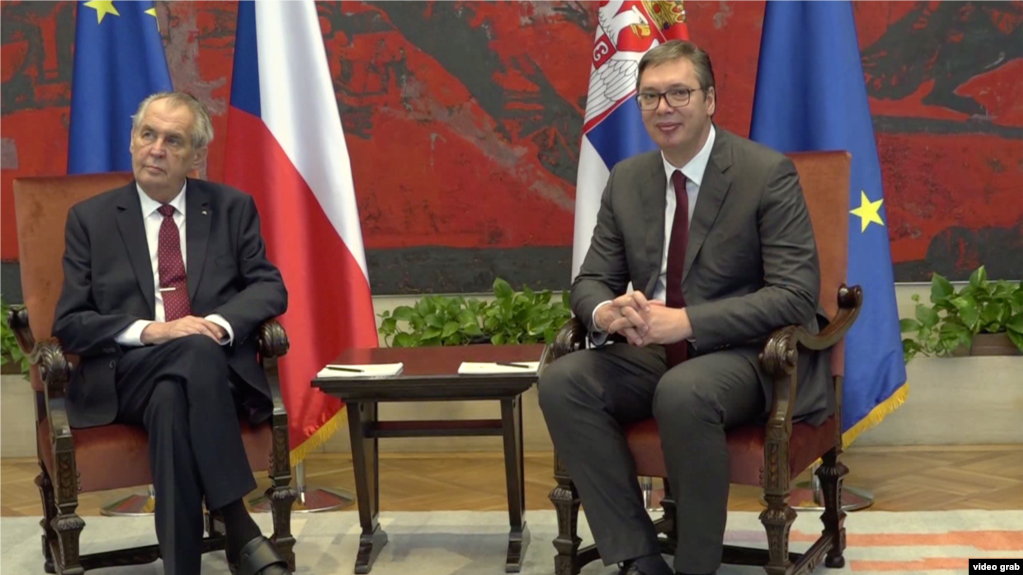 Czech President Milos Zeman says he would like his country to withdraw its recognition of Kosovo as a sovereign nation.
Speaking during a September 11 visit to Belgrade, Zeman said he would discuss the move with Czech lawmakers.
"I am not a dictator, But what I can do is that after a month the constitutional council convenes and I will raise the question of whether it is possible to withdraw recognition of Kosovo's independence," the Czech president said during a press conference with the president of Serbia's Aleksandar Vucic.
The statements by the 74-year-old president, who is known for his controversial stances, sparked reactions in the Czech Republic.
The president of the Czech Senate, Jaroslav Kubera, told that President Zeman made such statements only to please the Serbs, but his idea was unrealistic.
"The president can say whatever he wants, but he is not the one who can do something. It would be a big debate for nothing. "
Czech Foreign Minister Tomáš Petříček said he saw no reason for such a debate and that it would not be in the Czech Republic's interest.
In a post on the twitter social network he wrote that: The Czech Government, which is responsible for country's foreign policy, hasn't changed its stance towards Kosovo or any of the Western Balkan countries. We continue to support fully the dialogue between #Serbia and #Kosovo and their path to the EU.
In response to Zeman's statement, Kosovo said it was pulling out of a September 12 summit in Prague where several western Balkan countries will meet with prime ministers from EU members the Czech Republic, Hungary, Poland and Slovakia, according to a Czech government spokesperson.
Kosovo declared independence in 2008. Although more than 110 countries recognize Kosovo's statehood, Belgrade, and its traditional ally Moscow, do not.
European Union-mediated talks between Kosovo and Serbia to settle their differences have stalled./ibna