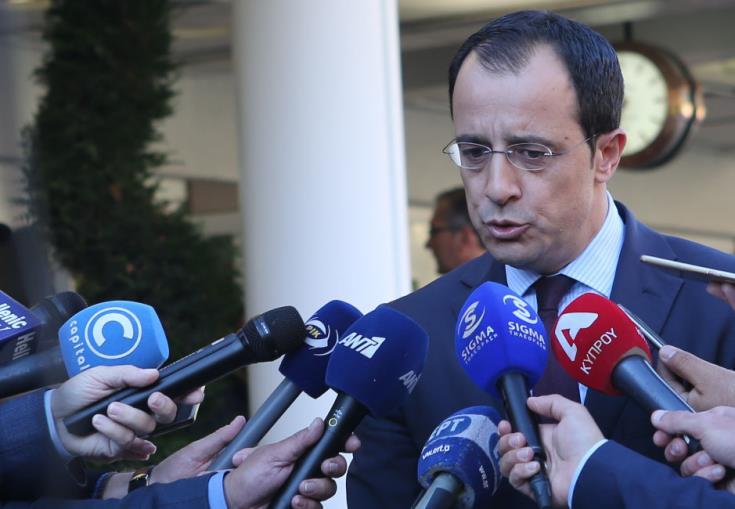 Cypriot Foreign Minister, Nicos Christodoulides, is in Athens on an official visit at the invitation of his Greek counterpart Nikos Kotzias, with whom he meet on Monday, while he will also have meetings with Greek President Prokopis Pavlopoulos, Premier Alexis Tsipras on Tuesday.
After the two ministers' meeting, Kotzias said that Turkey is the biggest problem in the region and its actions are characterised by persistent nervousness and violations of international law, calling on Ankara to respect international law and the law of the sea and to stop provocative actions against Cyprus and Greece
The Greek FM stressed that the latest developments in the Cypriot exclusive economic zone (EEZ) confirm the position of Athens and Nicosia on the issues of guarantees and security within a framework of a solution to the Cyprus problem.
On his part, Christodoulides said that his visit to Athens is a great indicator of the excellent level of bilateral relations between the two countries.
The Cypriot FM pointed out that the Republic of Cyprus will face any provocation with calm, prudence and determination, without at the same time turning its back on its main goal, which is finding a solution to the Cyprus problem, stating that Ankara's position does not serve the interests of Turkish Cypriots.
Along these lines, Christodoulides welcomed the warning given to Turkey by European Council President Donald Tusk last month that a prerequisite for the EU-Turkey summit to take place in March is for Ankara to terminate its actions in Cyprus' EEZ.
The Cypriot foreign minister once again reiterated that the Greek Cypriot side is ready to return to the negotiations table on the Cyprus issue, provided Turkey ceases its provocations in the Cypriot EEZ, while also made it clear that thorough preparation is needed before another international conference on Cyprus takes place.
On Tuesday, Christodoulides will be received by President Prokopis Pavlopoulos and after will meet prime minister Alexis Tsipras./IBNA