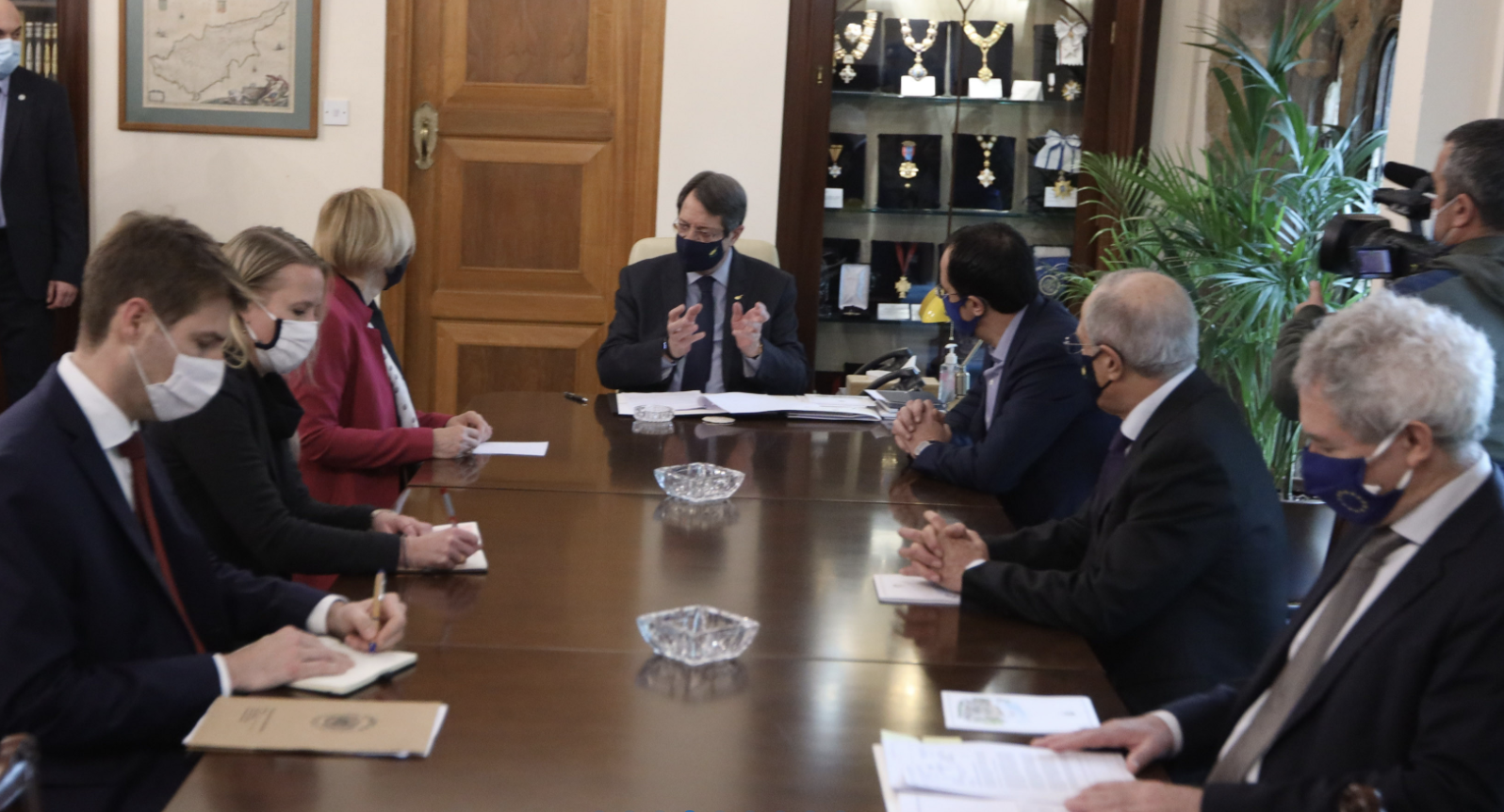 The meeting of the President of the Republic of Cyprus, Nicos Anastasiades, with the Special Representative of the UN Secretary General in Cyprus, Elizabeth Spehar, took place this morning, in view of the briefing she will make at the UN Security Council next week.
The meeting lasted about 45 minutes and was attended by President Anastasiades, Minister of Foreign Affairs, Nikos Christodoulides, negotiator, Andreas Mavrogiannis, Government Spokesman, Kyriakos Kousios, the Director of the Diplomatic Office of the President and service agents.
The focus of Elizabeth Spehar's contacts was the issue of UNFICYP. The Special Representative had a meeting after Nicos Anastasiades, with the Turkish Cypriot leader Ersin Tatar.
In the coming days and until the end of the month, the attention and weight of the behind-the-scenes consultations will be directed towards the discussions that will take place at the United Nations Security Council on the renewal of the mandate of the Peacekeeping Force in Cyprus. Nicosia has started a marathon of contacts at the level of Foreign Ministers.
Nicos Christodoulides had yesterday the first of five telephone communications with the Foreign Ministers of the five permanent members of the Security Council. Nicos Christodoulidis and Sergey Lavrov discussed the developments in the Cyprus issue in view of the informal five-party meeting, as well as the processes in the Security Council for the renewal of the term of UNFICYP. The telephone communications of the Minister of Foreign Affairs will continue today. He will speak with the foreign ministers of the United States, France, China and Britain.
According to a report by Philenews, the United Nations is considering the preparation of a new framework with new parameters by the Secretary-General.
According to the Philenews, Antonio Guterres could follow the procedural formula of Crans Montana and after bilateral contacts after the start of the informal quinquepartite meeting, to submit a new framework with specific parameters.
Jane Holl Lute after her contacts in Cyprus will continue the consultations and communications with the stakeholders from its headquarters in New York, preparing as best as possible the informal 5 + 1 conference which will be of a preparatory nature. A meeting that according to all indications that will take place in late February or early March in New York. During the contacts in Cyprus, the UN envoy had reminded both sides that the Secretary-General expects everyone to present their positions on how the process is progressing./ibna