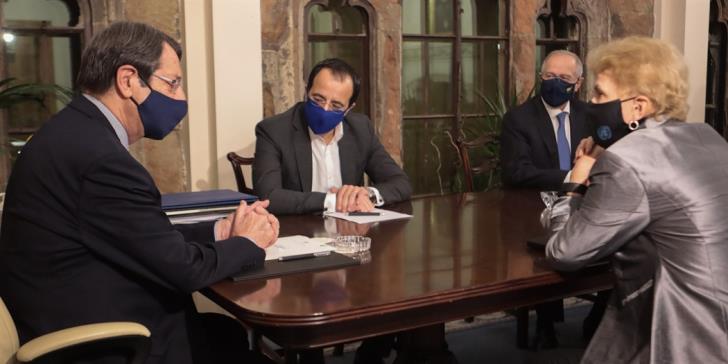 The President of the Republic of Cyprus Nicos Anastasiades received on Monday night, at the Presidential Palace, the Special Envoy of the United Nations Secretary General for Cyprus Jane Holl Lute.
After the meeting, Government Spokesman Kyriakos Kousios stated that "the meeting that the President of the Republic had with the Special Envoy of the UN Secretary General Jane Holl Lute has just ended.
The President of the Republic informed Ms Lute about the readiness and determination of our side to participate in an informal Conference to be convened by the UN Secretary-General within the terms of his mandate, as set by the UN Security Council.
The President of the Republic also reiterated and reaffirmed the positions of our side for the solution of the Cyprus problem and expressed our readiness to continue the talks from the point where they were interrupted in Crans Montana.
Anastasiades's meeting with Jane Holl Lute, which lasted about an hour and a half, was attended by Foreign Minister Nicos Christodoulides, negotiator Andreas Mavrogiannis and Government Spokesman Kyriakos Kousios.
For his part, Turkish Cypriot leader Ersin Tatar proposed a two-state solution. In his public statements, Tatar does not want the talks to resume from where they left off in Crans Montana. Asked if he passed on the message that he was not going to a five-party summit to discuss the federation, Ersin Tatar replied: "We said that already. There are new realities in Cyprus", and he reiterated his position for two states that will be side by side on the basis of sovereign equality.
Answering a question, the Turkish Cypriot leader said that they do not warmly see the resumption of talks from the same point, nor can such a thing be accepted. He added that Ms. Lute knows that "it is not the Cyprus that was 20 years ago. The eastern Mediterranean is not the same either. Expectations have also changed".
Asked if the issue of the enclosed city of Famagusta was discussed, Ersin Tatar said no, adding that the issue was not one of Lute's duties. Her task, he said, is to seek the ground for a five-party plus one conference.
Jane Holl Lute will continue her contacts with the other stakeholders and then inform the UN Secretary General./ibna