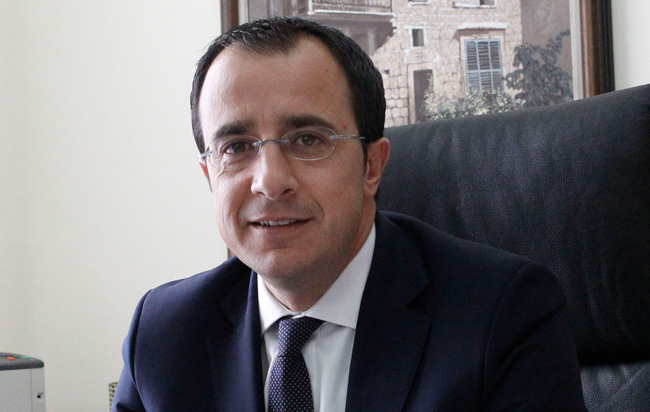 Review Hari Stefanatos
With serious implications in the process of peace talks if the turkish provocations continue in the Cypriot EEZ and there is a harassment of the companies operating in it, warns the Cypriot government.
Cypriot government spokesperson Nikos Christodoulides, said that "the harassment, in any way, of the company that operates within the Exclusive Economic Zone of the Republic, is in no way compatible with the orderly conduct of the negotiations".
He said that on Friday evening, Turkey issued a directive to seafarers (NAVTEX), according to which, binds certain areas within the Exclusive Economic Zone of the Republic of Cyprus, and that the Republic of Cyprus immediately issued a directive stating the illegality of turkish directive.
The issue, he noted, is particularly important, as violating the sovereign rights of the Republic, but also the rights of the company ENI-KOGAS, which is active within the Exclusive Economic Zone of Cyprus following an agreement with the Republic of Cyprus.
"We have made ​​demarches and will continue to do so", said the government spokesperson, noting that the Cypriot government expects "from all those have publicly spoken of the inalienable sovereign right of Cyprus to exploit its Exclusive Economic Zone, to move towards this direction, so as to terminate such phenomena".
Asked if through the statement he means the termination of the talks, the government spokesperson reiterated: "It is clear that it is not compatible with the smooth continuation of the talks", adding: "for such serious issues what counts most are the actions and not the words and as such we constantly assess the situation".
He said moreover that on Saturday was held on meeting at ministerial level in the presence of technocrats and that the Cypriot government expects to see the developments.
Invited to comment on the issue that came up in regard with the U.S. vice president and the Turkish president, Christodoulides said: "I will not comment on the dialogue or communication between the American and the Turkish government. What I would like to say, and that concerns us, is the comment of Mr. Joe Biden that the Turkish president had told him it would not be in Turkey's best interest to have troops in Cyprus".