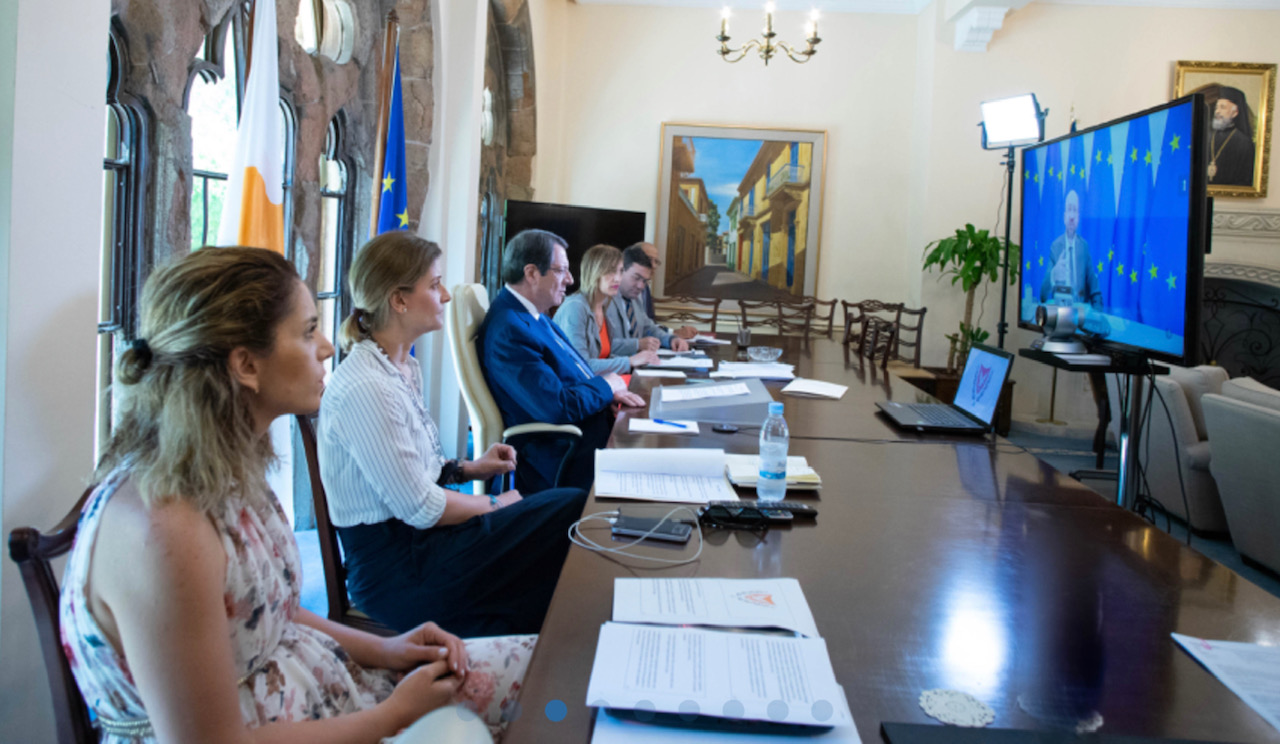 From the EU's movement, there is an understanding that the Union has had enough of Turkey's provocations, said this evening the Cypriot President Nicos Anastasiades.
Speaking to reporters at tonight's DISY event, the President of the Republic, to a journalist's remark that we have already asked the EU for important things for Turkey and his question on whether there is willingness on behalf of the EU to exert more serious pressure or sanctions on Turkey, he replied that "the necessary steps, the necessary diplomatic actions are being taken, and on Monday the Foreign Ministers' Meeting will be held, which may be followed by other gatherings".
I think that, as we all understand, there is a feeling from the EU's movements that it has had enough of Turkey's provocations".
Asked if this would translate into specific tangible measures that would force Turkey to change its stance, President Anastasiades stressed that "I want to believe that there will be such initiatives so that they prove fruitful".
Asked if he would like to comment on the arrival of a drillship in Larnaca, the President of the Republic refrained from commenting.
Earlier this afternoon, Cypriot President Nicos Anastasiades had a teleconference with European Council President Charles Michel.
The main topic of discussion was the Multiannual Financial Framework and the EU's Recovery Plan, in view of the efforts to reach an agreement as soon as possible on the European Commission's proposal. The agreement on the 2021-2027 Multiannual Financial Framework will also be the main topic of the European Council meeting of 19 July 2020.
The President of the Republic reiterated in detail the positions and demands of Cyprus, emphasizing the need to strengthen the country, especially in light of the challenges it faces as an island state with difficulties related to connectivity and isolation from the rest of Europe. He noted that the Cypriot economy, which relies heavily on the Service sector and the tourism industry, has been hit hard by the coronavirus pandemic, urging the EU to assist the country in recovering more effectively.
In the context of Cyprus's efforts to further strengthen the country over the next seven years, the President of the Republic reiterated the problems arising from the growing flow of migrants, stating once again the need for EU assistance, especially when it comes to the front-line states.
Nicos Anastasiades briefed the President of the European Council on the recent developments regarding Ankara's illegal actions in the Cyprus maritime zones, repeating that the EU must be strict and decisive in its attitude towards Turkey, safeguarding the interests of its Member States and of the Union itself.
Finally, he noted that respect for the sovereignty and sovereign rights of Member States, as well as commitment to good neighborly relations, are key conditions that everyone, without exception, must abide by.