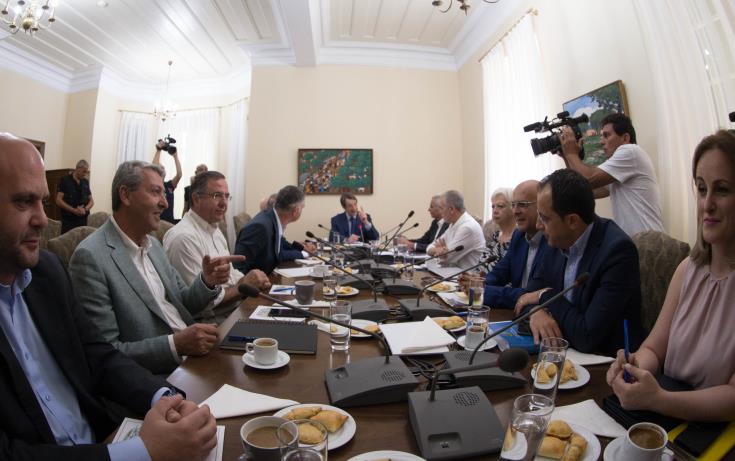 What will happen with Jane Lute
By Michalis Michael
Procedures have been under since Tuesday, in order for the date of the National Council to be finalized, in which President Nicos Anastasiades is expected to brief the political leaders on the outcome of his informal meeting on August 9 with the Turkish-Cypriot leader Mustafa Akinci.
The meeting may be hosted either next week at the presidential summer residence of Troodos or in the last week of August, at the Presidential Palace in Nicosia, depending on the political leaders' availability. However, on August 27, President Anastasiades will be in Nicosia to announce the commencement of the operations on the World Congress of Diaspora Cypriots.
It is unknown when Lute will come
At the same time, the date of the arrival of UN Special Envoy Jane Holl Lute in Cyprus remains unknown, an appearance which could act as a catalyst for either finalizing the National Council meeting in August or postponing it to a later date.
At this point, the Council of Ministers' meeting in Troodos on Wednesday, August 21, has been confirmed, in which general policy issues will be dealt with and, as is customary, =will be held in the presence of the Ministers' spouses.
Regarding the procedures for relaunching negotiations, a government source said Miss Lute's return to Cyprus was the first step in attaining the terms of reference. At the same time, the Government does not attach particular importance to the non-paper on gas, as sources report that the content will be commensurate with President Anastasiades' letter to the UN Secretary-General.
The same source notes in this connection that the Turkish side's actions have shifted the focus of the discussion to gas issues, while Turkey has yet to provide proof of its readiness to discuss security and guarantees issues. "It is the latter that will decide whether a conference on the Cyprus issue will be held, not gas," the source commented, adding that President Anastasiades would not enter into any discussions on gas co-management.
Regarding the non-paper, this is expected to be used as reassurance for that portion of Turkish-Cypriots who, with their good faith, look forward to the Cyprus issue reaching a solution, but, according to a government source, this constitutes a sideline matter.
Nicosia is expected to get a first glimpse of Turkey's level of readiness to engage in meaningful discussions once Miss Lute commences her efforts for the terms of reference to be reached.
The government source recalls President Anastasiades' proposal to include in the terms of reference the convergences reached and the discussions held in Crans Montana, up until the July 6 dinner in 2017, while wondering whether Ankara will accept such conclusions. "If no conclusion is reached to the terms of reference, we will know the reason," the source states. /ibna