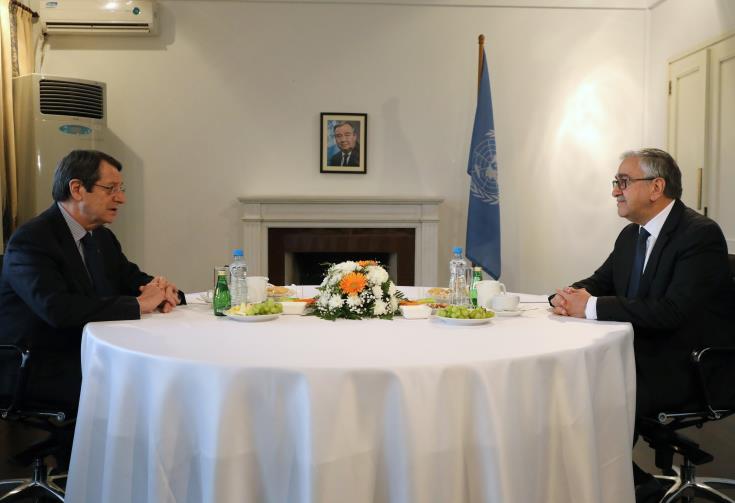 How the opening of the new crossings is moving along
By Michalis Michael
The process of implementing confidence-building measures (CBMs) the two sides have agreed on, or the consideration of other possible measures on a bi-communal Technical Committees level is under way, a source reported to CNA, ahead of the Cypriot President Nicos Anastasiades' meeting with the Turkish-Cypriot leader, Mustafa Akinci, on August 9.
The source adds that the list of CBMs submitted by the President during his informal meeting with Mr. Akinci on February 26 is there and has not been set aside.
Some steps have been made; some measures have been completed and have been announced, and others are underway to be implemented, the same source adds. It notes that one of the measures expected to be applied shortly involves the exchange of works of art and CBC archival material, a project handled by the bi-communal Technical Committee on Culture. When asked about the issue of the enclosed area of ​​Famagusta, which is included in the CBMs put forward by President Anastasiades, the source points out that, since the latest developments and movements by the Turkish-Cypriot side, the issue has been now raised at a much higher political level, and it is not just about setting up, for example, a Technical Committee anymore, that could deal with Varosha's reconstruction and rehabilitation, but rather that "we are now talking about violations of the Security Council's resolutions". It added that none of the proposals made by the President have been set aside.
As for the issue of opening new crossings to and from the occupied territories, the same source recalled the opening of two crossing points last November in Deryneia and Apliki-Lefke. It added that, from our side the desire to open points that serve local communities, such as in Athienou and Kokkina, is always there.
The Turkish side appears to be hesitant about moving forward, and therefore the discussion has been stalled, it reports, adding that an evaluation of the results of the last two crossing points' opening is being carried out./ibna