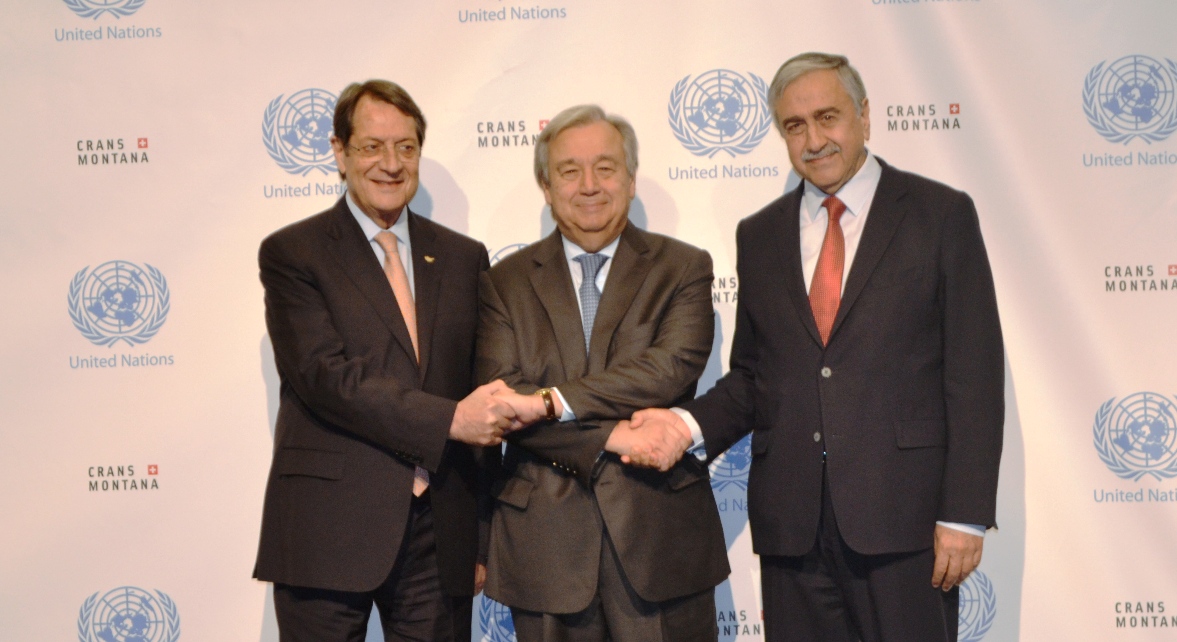 This morning' talks on Cyprus at the Crans-Montana resort ended with  Turkish Cypriot leader Mustafa Akinci calling for the return of GS Antonio Guterres and Turkish Foreign Minister Mevlut Cavusoglu telling reporters that the troops will stay in Cyprus for as long as the Turkish Cypriots needed them.
Hope and pessimism as well as a heavy political climate enveloped the talks, nevertheless everyone is on stand-by for the afternoon session in the hope that it will be an improvement to the earlier meeting.
Following a week of procedural discussions it seems that finally we have reached what might be the essence of the discussions. Of course this means that it will become much more difficult and no one expects it to be a process without tensions, objections and upsets.
According to IBNA information, the Turkish side has submitted the following proposals, the Treaty of Guarantees to apply mutatis mutandis, the monitoring clause for guarantees after the third rotating presidency term or 3 electoral cycles (15 yrs), Military presence with a significant immediate reduction and a further gradual reduction to be agreed however a permanent force to remain on the island with no sunset clause. Also an Additional Protocol to the Treaties of Alliance and Guarantees to be included in the Treaty For the New State of Affairs, on Territory – they will discuss this later, but they believe that the rehabilitation costs should be included and annexed to the agreement.
The Greek side, according to information, has noted that there should be a verification and monitoring mechanism that will respond to the security needs of implementing the solution.
It should be international, without guarantor powers, objective, with technical training, with expertise / experience in the fact-finding and verification process. It should have a strong command that will be able to monitor and leverage the execution of all commitments by the parties. It will provide assistance, counselling and technical support to solve the difficulties that may arise in implementing the solution. In this respect, the UN should have a key role. There should also be a pact of friendship, a comprehensive treaty, aimed at boosting friendly relations and cooperation between Cyprus, Turkey and Greece, on a range of issues, such as immigration, threats of terrorism, natural disasters etc. This pact will not have a military dimension.
With regard to the existing security system, the Greek side has, according to information, said that the conditions of guarantees and security should be terminated at the same time as the solution is adopted, and there should be a treaty to withdraw foreign powers from the territory of Cyprus. The format of the treaty should have a timetable for the key phases and steady flow of troop and military equipment withdrawal. There should be an authority that can verify and monitor the whole process, which will be reported to the parties, but also to the UN Security Council./ΙΒΝΑ