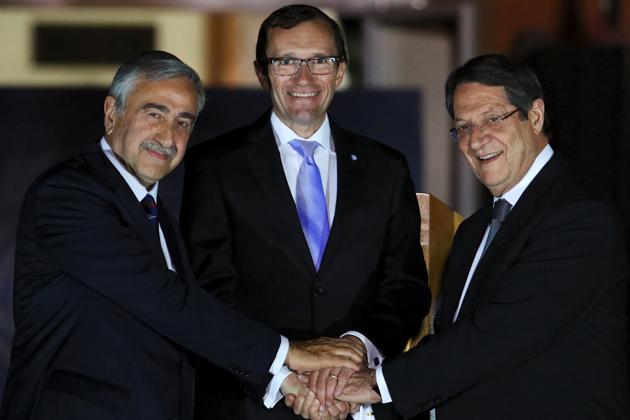 Nicosia, May 12, 2015/ Independent Balkan News Agency
By Kyriacos Kyriacou
The leaders of the Greek Cypriot and the Turkish Cypriot communities will resume talks for the reunification of Cyprus on Friday May 15th, as the Special Advisor of the UN Secretary General for Cyprus Espen Barth Eide announced on Monday night.
Speaking to the press following a dinner with the two leaders, President Nicos Anastasiades and Turkish Cypriot leader Mustafa Akinci, Eide said that the meeting took place in a very positive atmosphere, adding that both leaders shared their vision for the future of Cyprus.
"In the spirit of the joint declaration of the 11th of February 2014 they agreed that it was important to use the momentum created and this new opportunity to move forward without delay," he said.
The leaders expressed their strong, joint commitment to move forward in a constructive and dedicated manner and for that reason they agreed to hold the first leaders` meeting on Friday the 15th of May to go through a general exchange of views and to agree on the modalities for the structuring and the frequency of the meetings, Eide added.
"I want to add from my side that I think this is a unique opportunity, an opportunity that will be grasped and it is truly rewarding to work with two leaders with such a strong commitment to seeing a sheer challenge that can only be solved through a shared effort to find a shared solution".
He also said that he is very much looking forward to the continuation of the talks. "As you have understood, we will start working and working hard already in the morning of the 15th of May, this coming Friday".
The Special Adviser had a meeting with the leaders that lasted approximately half an hour which was followed by a dinner in the presence of the negotiators of the two sides, Andreas Mavroyiannis and Ozdil Nami and UNSG Special Representative in Cyprus Lisa Buttenheim.
Meantime, talks for integration of mobile telephony in the Republic of Cyprus and the Turkish occupied areas are underway on technical level with the aim to find a formula that will allow for this measure to be pursued.
CNA has learned that there is guidance by the Presidential Palace, while at the same time the issue is being discussed between the Cyprus Chamber of Commerce and Industry and the Turkish Cypriot Chamber as well as the technical committee responsible for such issues. The technical committee comprises of Greek Cypriot and Turkish Cypriots.
Sources have told CNA that this issue was on the agenda of meetings for Confidence Building Measures between President Anastasiades and former Turkish Cypriot leader Dervis Eroglu, however Eroglu refused to discuss it.
The UN-led talks aim to reunite Cyprus, divided since the 1974 Turkish invasion, under a federal roof.