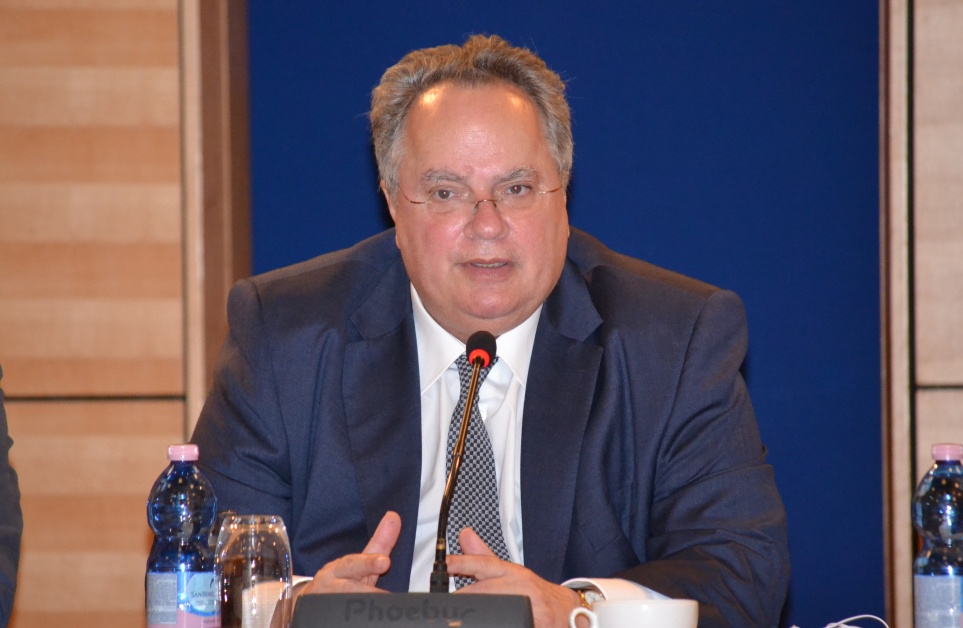 Greek Foreign Minister Nikos Kotzias stressed Greece's constructive participation at the conference on Cyprus in order for a solution to be found that meets the security concerns of both communities and which provides the maximum opportunity for equality, in his speech during the first part of the multilateral conference for security and guarantees, according to diplomatic sources.
Greece, as Kotzias stated, considers that the guarantee scheme is outdated, and that there can be no guarantees and intervention rights in an EU Member State and pointed out the need to withdraw Turkish troops and that troop withdrawal be bound by a timeframe.
He noted however the the issue of security be covered by a better policing of the state, at a federal level, and possibly by an international police force.
The best guarantee of course, said the Foreign Minister, is Cyprus' EU membership, as it is a guarantee of the rights of all and he welcomed the presence of European Commission President Jean-Claude Juncker and EU High Representative Federica Mogherini which as he said indicates, the interest and the role the EU can play.
Kotzias also thanked the UN Secretary General Antonio Gutteres for the efforts of the United Nations to achieve the historic reunification of Cyprus. The UN, stated Kotzias, should follow the letter and spirit of its Charter and be the guardian of its principles.
We all have historical responsibilities to consolidate peace in the region, added Kotzias and referred to the Cypriot President's and Turkish Cypriot leader 's political courage in the efforts they are making to reach a deal to reunify the island.
He stressed that the solution should protect the rights of Greek and Turkish Cypriots but also the rights of the three minorities. Both Turkish Cypriots and Greek Cypriots should feel safe, he stressed, adding that it takes a viable, functional and just solution to the Cyprus problem in line with the European acquis. Mr. Kotzias noted that Cyprus should become a beacon of stability and an example for the entire Middle East. The solution would be a shining example for all countries in the region and would create prosperity, noted the foreign minister.
The future of Cyprus, like Turkey, concluded Kotzias is the EU, "we believe in it and we want to work for the reunification of the island to allow Greek Cypriots and Turkish Cypriots to dream, to be able to feel that this country is their home, and build the future of their children with safety."/ΙΒΝΑ