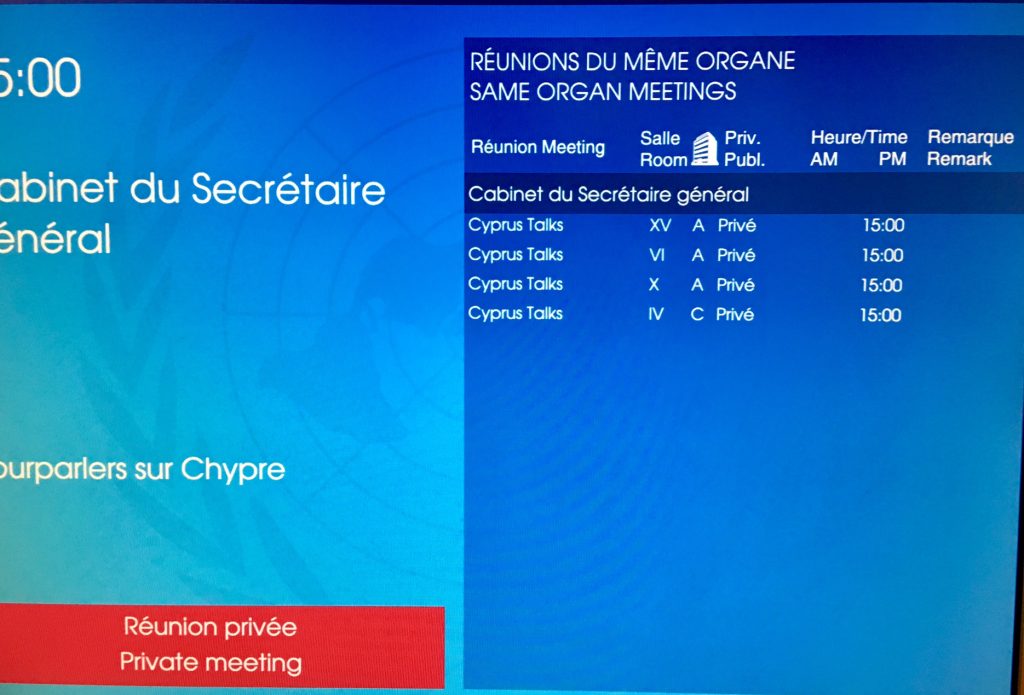 The bilateral talks on the Cyprus issue taking place at the UN headquarters in Geneva are nearing the end and the two sides express cautious optimism about their outcome.
According to IBNA information there are significant convergences concerning open chapters that are still under discussion as well as ongoing disagreements. Despite this the political climate from both sides is positive and there is a willingness to find common ground in the consultations.
The big question remains as to who will represent Turkey at the International Conference, with Turkish Foreign Minister Mevlut Cavusoglu arriving later on Wednesday and with several of his colleagues already involved in the talks.
With that said a small communication "war" is taking place between the two sides with conflicting leaks of information aiming to win over impressions particularly on the issue of the map submission from both sides. The Greek Cypriot side underlines that If the Turkish Cypriot side does not submit a map or submits one with more than 29.2% then there will be no international conference.
Greek Foreign Minister Nikos Kotzias and British Foreign Minister for European Affairs Sir Alan Duncan arrive in Geneva on Wednesday afternoon. The Greek Foreign Minister will be updated by the Cypriot side after the completion of talks, and bilateral contacts are expected to take place between Kotzias, Cavusoglu and British Foreign Minister Boris Johnson on Thursday morning, shortly before the opening of the International Conference on the Cyprus issue.
For the first time ever, all sides involved seem to be willing to find a solution, state diplomatic sources. The convening of the international conference in Geneva if anything, suggests that both communities as well as the international community and the EU want a solution.
However there are some that want the talks to fail. This is evident both through leaks that are finding their way into the press as well as from a large part of the Cypriot and Greek media that seem to be trying to trap the interlocutors into making misguided and dangerous moves and consequently destroying every effort being made in finding a solution to the long standing Cyprus problem./IBNA