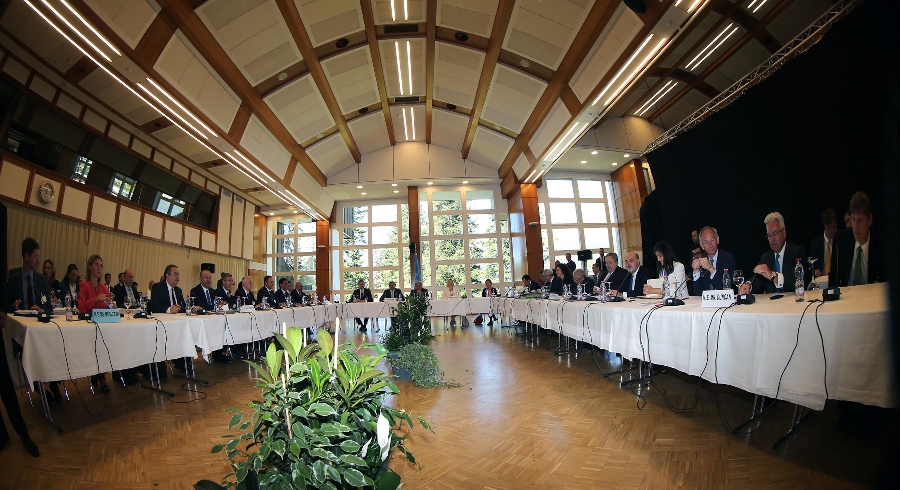 The Cyprus talks at Crans Montana failed to reach a result as the Turkish side insisted on maintaining Ankara`s guarantees and its right to intervention.
According to reliable sources, there was no result  at the dinner hosted by the UN Secretary General Antonio Guterres for the heads of delegations at the Conference on Cyprus in the early hours of Friday at Crans Montana because of Turkey`s insistence on retaining the guarantees it secured in the 1960 treaties that established the Republic of Cyprus and on maintaining Turkish troops on the island.
On the guarantees and the right to intervention, Ankara wanted a review of the presence of troops in 15 years and not withdrawal.
On the territorial level, the Turkish side would only accept the return of part of the Turkish occupied town of Morfou to the Greek Cypriot constituent state, in an agreed federal solution.
Furthermore, Turkey wanted any agreement reached to become primary law of the EU while it insisted on equal treatment of Turks in Cyprus with Greeks residing on the island after a political settlement.
The Conference on Cyprus at Crans Montana ended without an agreement, the UN Secretary General Antonio Guterres announced on Friday after a dinner with all the participating delegations, that ended in the early hours without a result.
" I am deeply sorry to inform you that despite the very strong commitment and engagement of all the delegations of the different parties, the Greek Cypriot, the Turkish Cypriot delegation, Greece, Turkey, the UK and the EU as an observer and of course the UN team, the Conference on Cyprus was closed without an agreement being reached," he told a news conference.
Guterres returned to Crans Montana on Thursday in an effort to break the deadlock that the talks at the Swiss resort faced.
"Unfortunately, as I said, an agreement wasn't possible and the conference was closed without the possibility to bring a solution to this dramatically long lasting problem", he added.
Guterres expressed "deep gratitude and appreciation to the leaders of the two communities" and wished "the best for all Cypriots, of north and south.  And I also want to express my deep  gratitude to the representatives of the guarantor powers and the EU".
At the same time, he expressed his "enormous appreciation to the UN team and my advisor Espen Barth Eide", noting that Eide has "done everything possible to bring closer the positions of the different delegations".
Asked if the parties will continue the negotiations, Guterres said "the Conference is closed".
"That doesn't mean that other initiatives won't be developed in order to address the Cyprus problem. But this Conference was closed unfortunately without a result. The United Nations is always at the disposal of the parties", Guterres added./IBNA