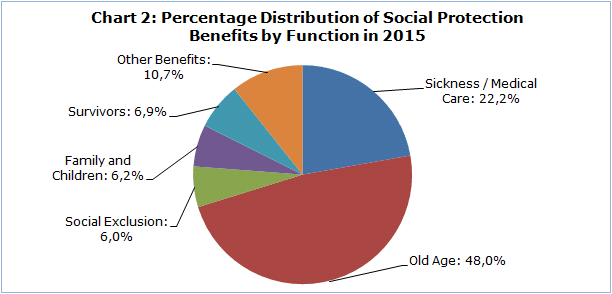 According to the results of the Social Protection Survey, which is based on the principles and rules determined by the European System of Integrated Social PROtection Statistics, ESSPROS, the social protection expenditures in Cyprus, as a percentage of the GDP, reached 21,8% in 2015, compared to 21,7% in 2014, which corresponds to EUR 3.87 bn in 2015, compared to EUR 3.82 bn in 2014.
The main functions were those of Old Age and Sickness/Healthcare, which together constituted 70,3% of the Social Protection benefits for 2015 (compared to 69,5% in 2014). The largest share of old age benefits (which comprise both cash benefits, i.e. periodic pensions and benefits, and lump sum benefits, as well as old age benefits in kind like housing, provision of assistance in carrying out daily tasks and other benefits in kind), concerns periodic pensions which amounted to EUR 1.6 bn, and which constituted 88,0% of the sum of Old Age benefits. As regards the Sickness/Healthcare benefits, in-patient care (i.e. overnight stay of patients in a hospital or clinic) amounted to EUR 340,1 mln, which corresponds to 40,4% of the sum of healthcare benefits for 2015.
There was an increase in the expenditures of the function of Sickness in 2015, which amounted to EUR 842,7 mln (compared to EUR 781,9 mln in 2014), the function of Survivors with the expenditures amounting to EUR 261,4 mln in 2015 (EUR 253,6 mln in 2014), the Housing function amounting to EUR 64,5 mln in 2015 (EUR 47,6 mln in 2014) and the function of Social Exclusion amounting to EUR 226,2 mln in 2015 (EUR 200,7 mln in 2014). On the contrary, a decrease in expenditures was recorded for the function of Family/Children which amounted to EUR 234,0 mln in 2015 (EUR 243,5 mln in 2014), as well as for Unemployment which amounted to EUR 215,9 mln (EUR 272,8 mln in 2014).
The bulk of the Social Protection benefits that were provided to beneficiaries (86,7%) in 2015 were non-means tested benefits (i.e. without verification of the recipients' financial situation). In the majority of the cases, the beneficiaries, having made cash contributions to various insurance funds (e.g. the Social Insurance Fund), gain the right to benefits; in other words, the bulk of social protection benefits are not explicitly or implicitly conditional on the beneficiary's income and/or wealth falling below a specified level. Furthermore, the majority of the benefits in 2015 were cash benefits, whereas benefits in kind constituted only 17,3% of the sum of social protection benefits. As regards cash benefits, 89,0% were provided periodically, for example pensions and other benefits, whereas lump sum benefits constituted 11,0% of the cash benefits.
The Social Insurance Scheme constitutes the largest provider of social benefits in Cyprus, with benefits amounting to EUR 1.364,1 mln, representing a share of 35,2% of the total benefits in 2015. The scheme which covers Other Governmental Social Protection also has a significant contribution, amounting to EUR 633,1 mln, or a share of 16,3% of the total, followed by the Civil Service Social Protection scheme with EUR 593 mln (15,3%), the Central Government Health Services with EUR 459,3 mln (11,9%), the Employer as Provider of Social Protection scheme with EUR 328,9 mln (8,5%) and the Semi-autonomous Social Insurance Institutions with EUR 286,1 mln (7,4%), while smaller percentages were recorded in the remaining schemes./IBNA