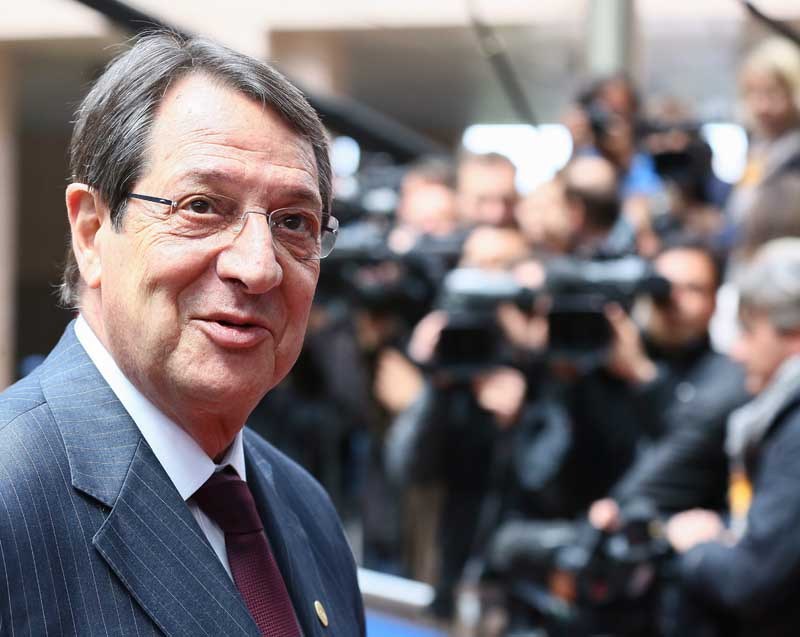 By Kyriacos Kyriacou – Nicosia
"Cyprus is too small to decided about Russia", stressed the President of the Republic Nicos Anastasiades, noting though that principles should be the first to take into consideration.
In a statement on the doorstep of the European Council in Brussels and replying to a question regarding Cyprus' position for the possibility of EU sanctions against Russia, President Anastasiades said that "we are quite small to decide about Russia, but of course we have to take into consideration that firstly it is the principles, second is those steps we might take which will not have a retrospect in our own economy."
Cyprus has developed over the years strong relations with Russia concerning politics and especially economy. A respectful number of Russian companies are based here. In addition, thousands Russian tourists visit the island every year for its sunny weather and beautiful beaches.
"Safety net" rejected
The Mediterranean island is often accused from foreign media for money laundering and for being a "safety net" for Russian oligarchs. The government strongly rejects the allegations.
On Friday, the Ministry of Foreign Affairs of the Republic of Cyprus expresses its utmost regret that common allegations presenting Cyprus as a "safety net" for the wealthy Russian oligarchs still persist, regarding Wednesday's (19/3/2014) article titled "Mapped: Where Russia Stashes its Cash" by John Schoen, posted on CNBC's website.
According to an official announcement issued here, the Ministry "outright dismiss these allegations, which are created for reasons of expediency, as preposterous and obsolete".
At this critical political juncture for the EU, allegations of this sort are irrelevant to the implementation of specific restrictive measures (i.e. asset freeze and visa ban) decided by the EU against individuals responsible for actions undermining or threatening the territorial integrity, sovereignty and independence of Ukraine, it is added.
Cyprus abides by its obligations as an EU member state and will accordingly implemented without fail any measures on the basis of agreed Decisions adopted at EU level, the Ministry concludes.