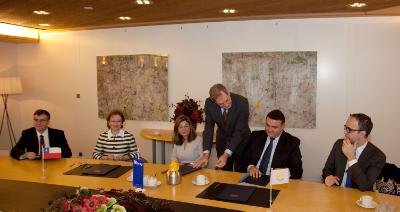 Nicosia, December 15, 2015/Independent Balkan News Agency
Cyprus is the 8th country to sign the Agreement on the Status and Functions of the International Commission on Missing Persons (ICMP).
Speaking after having signed the agreement, in the Hague, on Monday, Cypriot Ambassador Elpidoforos Economou noted that "painful national experiences have helped us appreciate the importance of enhancing international cooperation and exchanging best practices for the cause of missing persons globally," an ICMP press release says.
The ICMP, he added, "can count on Cyprus's support in the global effort to promote justice and to alleviate the suffering of the missing persons and their families."
On her part ICMP Director-General Kathryne Bomberger said the accession to the Agreement would make it easier for ICMP to work with stakeholders in Cyprus.
"I look forward to working with Cyprus to explore options to enhance its efforts to account for missing persons and to secure the rights of families of the missing to truth and justice," she noted.
The ICMP has worked with the Committee on Missing Persons in Cyprus (CMP) since July 2012, when it began providing assistance in making DNA-based identifications.
"The agreement recognizes ICMP as an international organization tasked with assisting countries in their efforts to address missing persons cases from conflict, human rights abuses, disasters, organized crime, migration and other causes," the press release says.
It does not, it adds, "create new international obligations for signatory states, financial or otherwise. ICMP remains a voluntarily funded organization".
The agreement has also been signed by the UK, the Netherlands, Sweden, Belgium, Luxembourg, El Salvador and Chile.
According to the CMP, so far 618 missing persons from both communities have been identified and returned to their families for a dignified burial.
Cyprus has been divided since 1974, when Turkish troops invaded and occupied its northern third. Since then, the fate of hundreds of people remains unknown.
The Committee on Missing Persons has been established, upon agreement between the leaders of the Greek Cypriot and the Turkish Cypriot communities, with the scope of exhuming, identifying and returning the remains of missing persons to their relatives.
Source: CNA