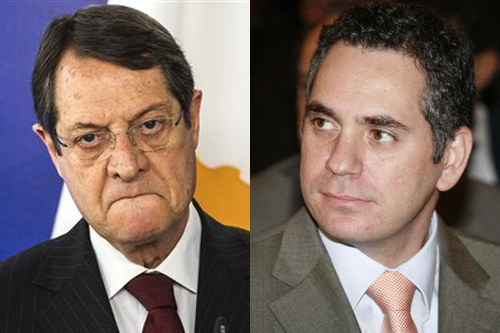 DIKO leader Nicolas Papadopoulos (on the right) warned President Nicos Anastasiades that his party will leave the ruling coalition.
By Kyriacos Kyriacou-Nicosia
The government coalition is threatened with collapse as centrist Democratic Party's (DIKO) executive board will convene this Friday 04:00 p.m. to decide whether the party will terminate the cooperation with ruling right wing Democratic Rally (DISY) and dissolve the government coalition or stay in power. DIKO leader Nicolas Papadopoulos, son of former president Tassos Papadopoulos, announced the decision on Monday.
Due to the joint declaration
The party has repeatedly expressed its strong opposition to the joint declaration, signed by Greek and Turkish Cypriot leaders Nicos Anastasiades and Dervis Eroglu, which restarted peace talks for the unification of divided Cyprus. The joint declaration is based on a bi-communal, bi-zonal federation with political equality.
Papadopoulos warned today President Nicos Anastasiades that he will leave the government coalition if the President goes through with his plan to recommence peace talks based on the declaration. Papadopoulos accused Anastasiades of lying in his press conference on February 12.
Reports say that the executive office is split 22-17 in favour of leaving the coalition. DIKO's four ministers future (Commerce and Industry Giorgos Lakkotripis, Health Petros Petrides, Education and Culture Kyriakos Kenevezos and Defence Fotis Fotiou) is also uncertain.
Strict stance on Cyprus issue
DIKO has developed a strict and hardline stance on the Cyprus problem and strongly opposed the Annan solution plan in 2004. The party also supports European integration and supports a non-aligned foreign policy, even though it has showed support for Cyprus joining Nato's Partnership for Peace.
From 2000 until 2006, the party was led by Tassos Papadopoulos, who was President of Cyprus from 2003 to 2008. Papadopoulos was succeeded as DIKO leader by Marios Garoyian, who was President of the House of Representatives from 2008 to 2011. The party's decision not to field a candidate in the 2013 presidential election and to back conservative leader of DISY Nicos Anastasiades instead was controversial amongst members, and contributed to Marios Garoyian's loss of the leadership to Nicolas Papadopoulos, son of Tasos, later in the year.