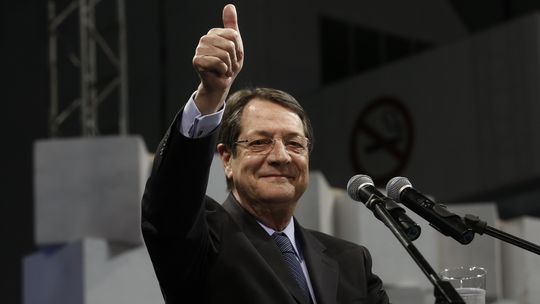 By Kyriacos Kyriacou – Nicosia
Cyprus will be able to return to the international financial markets by the end of June, a full year ahead of schedule, the President of the Republic of Cyprus Nicos Anastasiades said on Tuesday.
Addressing a Gala Dinner, organized by the Cyprus Shipping Chamber, at the Presidential Palace, in Nicosia, the President of the Republic said that just over a year since the loan agreement with the Troika, "the Cyprus economy is well under way for full recovery".
The President also referred to the contribution of the shipping sector, noting that it has played "a leading role in our effort for recovery".
The CSC Gala, organized on the occasion of the 25th anniversary since the Chamber`s establishment, was also attended by the Chairman and Members of the International Chamber of Shipping (ICS), Shipping Ministers and members of the CSC.
"We met the obligations"
"We have repeatedly and timely met the obligations we have undertook against our lenders, for structural reform, restoring the soundness of the Cyprus banking system, as well as public spending," President Anastasiades said.
As a direct result of the corrective measures, he went on, "it is expected that by the end of this month, Cyprus will be able to return to the international financial markets, a full year ahead of schedule".
Painful measures
The President acknowledged however that some government measures "have admittedly been quite painful for the people of Cyprus".
Furthermore, he said that the shipping sector constitutes a crucial part of the country`s economy and one of the main pillars of growth. The Chamber, he noted, has played an invaluable part, by projecting Cyprus as a reliable maritime center.
He expressed, moreover, the government's determination to introduce the mechanisms necessary to support the sector and enhance it further, in close cooperation with the CSC.
The President urged the Chamber to continue working creatively, taking into account the new potentials due to the recent discovery of natural gas and, possibly, oil in the exclusive economic zone of Cyprus.
He thanked finally the members of ICS for their "sterling support and cooperation" towards developing and promoting Cyprus Shipping, and congratulated the CSC for its 25th anniversary wishing every success in its future endeavors.