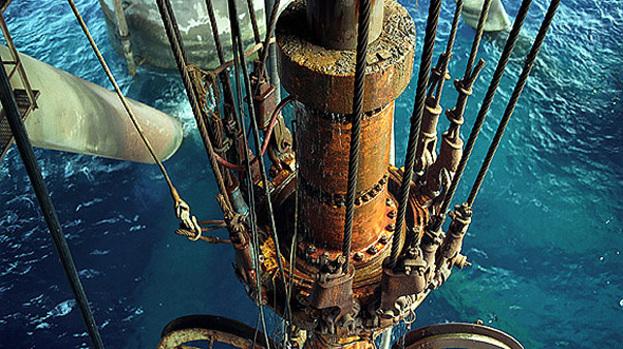 Expert on energy issues Charles Ellinas expressed great concern, on the problems emerged regarding the use of Cyprus` ports by gas companies drilling for natural gas within the country`s Exclusive Economic Zone (EEZ).
Former President of the country`s Natural Hydrocarbons Company and currently CEO of E-C Natural Hydrocarbons Company Charles Ellinas, said in an interview to CNA, that the country should find a permanent solution to the problem, to allow all energy companies to proceed with their drilling programme in Cyprus` EEZ. He also noted that the available space at Limassol Port is limited therefore there is a possibility that the port will not be able to host all the companies operating in the island.
He also pointed out that the new technology of floating natural gas liquefaction Unit (FLNG unit) has already been used in other fields around the world and this solution is the most beneficial for the exploitation of Cyprus` natural gas reserves.
Ellinas, also a Senior Fellow of the Atlantic Council, referred to the discussions between Turkey and Israel for creating a gas pipeline to connect the two countries, noting that Cyprus could not stop such a pipeline going through its EEZ.
Limited space for the gas companies in the port of Limassol
Expressing the hope that the problem with the use of Limassol`s port by TOTAL will be resolved soon, he said that only then the French company could proceed with exploratory drilling in block "11", a drilling scheduled for April 2017.
As he said, TOTAL can not sign contracts for drilling before all the problems are solved, since the drill is costing a million dollars a day and any delay will cost a lot. TOTAL, he added, would like everything to be clear about its activity in the port of Limassol, after a problem emerged with the port`s managing company DP WORLD.
However, Ellinas said, there is a second problem, related to the limited space in the port of Limassol as reported by gas companies ENI, Noble and TOTAL, something that would not allow ENI and TOTAL to drill at the same time in Cyprus` EEZ, as ENI plans to begin drilling by the end of 2017. This may also be a problem for companies that will succeed in the third licensing round in the Cyprus` EEZ. Hydrocarbon`s companies based in Larnaca`s port have to relocate after a decision taken by the city`s Council on the issue.
"We must find a permanent solution to the problem, not only a temporary solution as the one we found now", he said.
"We want a solution, we want these projects to proceed, we want a port that can serve these companies. These companies came here to make the drilling that we want, we want natural gas. It is our duty to find the solution, " Ellinas pointed out.
Discoveries from TOTAL and FLNG unit the most economically viable scenario
Asked what would be the most economically viable solution for Cyprus for the exploitation of its natural gas as soon as possible, Ellinas said there are many reasons advocating in favor of an FLNG unit.
He mentioned projects already implemented by PETROLAS in Sarawak (Malaysia) and by ENI in Mozambique, something that proves that this technology is no longer a new technology but it is economically advantageous with the current natural gas prices.
He added that it would be likely economically viable if Cyprus could also proceed with FLNG.
"I believe that the company that could look at this issue seriously is TOTAL", he said, explaining that if TOTAL proceeds with the drilling next April and since there are good chances of success for a small deposit in block `11`, then one option for extraction would be FLNG.
"TOTAL has the technology, is already prepared and has the financial ability to proceed with the project, it does not need help from anyone", he said. He added that this way, the exploitation of the gas will be direct, without having to go through other countries.
"It will be a floating unit over the deposit that will do the production and the liquefaction. The ships will get the gas and go wherever they want to go, without anyone`s permission. It will be under the control of TOTAL and Cyprus, "he said.
He added that in this way, the needs of Cyprus for natural gas could also be served.
We can not stop the pipeline between Turkey and Israel
Invited to comment on Cyprus` issue in relation with natural gas planning, Ellinas expressed the view that the intensification of efforts to resolve the Cyprus problem is not connected with developments in natural gas, and especially with the efforts to built a pipeline transporting natural gas from Israel to Turkey.
"If Israel really wants to go ahead with a pipeline to Turkey and Turkey wants to buy gas, because there are several doubts over here, then Cyprus can not stop the project. With a solution or without a solution (of the Cyprus problem) the pipeline will be implemented", he said. He added that there are international agreements such as UNCLOS saying that the country from which a pipeline passes could not stop it, but could only objected on environmental issues, or other minor issues to a limited extent.
He also noted that the Israeli-Turkey pipeline would not be built by countries but by Turkish companies and will be owned by Turkish companies, not by Israel or Noble.
Saying that other solutions examined by Israel such as sales to Egypt or East – Med pipeline are not economically viable given the current gas prices, he added that for Israel the only way out is exports to Turkey. He noted that Turkey is reducing its dependence on natural gas, however, the country may want to make imports from Israel for strategic reasons, such as reducing dependence on Russian gas.
After a solution to the Cyprus problem, he said, Cyprus could enter the Israeli – Turkish pipeline if Turkey`s natural gas needs were bigger and that would be economically viable. He furthermore expressed the opinion that Turkey`s need of natural gas will not be that big, adding that gas transportation potential in Europe from Cyprus via Turkey and the Southern Gas Pipeline, is also not considered viable.
Regarding the election of Donald Trump as US president and how it affects the region, Ellinas noted that Trump said he will promote the production of shale gas and oil, which will further increase production and keep prices low. He also said Trump and his team have already said that their two allies in the region are Israel and Turkey, so they will support the projects promoted by the two countries.
Regarding the results of the third licensing round for hydrocarbons exploration in Cyprus` EEZ that will be announced soon, Ellinas said that there was good response from very powerful companies as ENI, TOTAL, Exxon Mobil QP and Statoil.
"This is good for us because we want strong companies, large companies, so if they make discoveries of natural gas to be able to proceed with the projects", he said./IBNA
Source: Cyprus News Agency