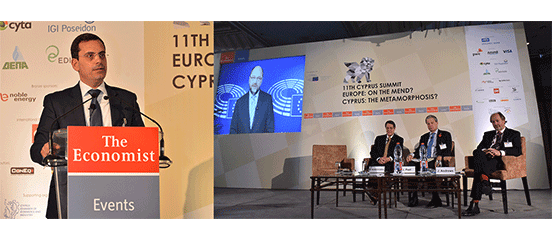 The Cyprus government has assured that it will not relax its reform drive, as the IMF and the European Commission indicate that despite exiting a 3-year economic adjustment programme the Cypriot economy is still vulnerable.
UnderSecretary to the President Konstantinos Petrides pointed out that the government insists on reforms and specifically on the actual Cyprus Reform Program that has been submitted, instead of being complacent in a new post-memorandum beautified but virtual reality.
In his speech at the 12th Economist Summit that takes place in Nicosia, he said that "We will continue to seek the minimum consensus to implement this program, to remove the remaining enduring pathologies of the system and to avoid repetition of the wrong policies that cost us so much in the period before Memorandum."
At the same time, he said that a government proposal for a deputy Ministry for Growth includes the competence and responsibility to improve the competitive position of Cyprus, and the related accountability for the country`s progress.
"We are trying to create a ministry for the Economy, not a Finance Ministry", he said, noting that Cyprus is the only country in the EU that does not have a similar Ministry with a central role in policy making.
He also said that growth is not achieved or maintained with the sharing of the existing wealth, or with the continuous expansion of public spending, but it is achieved and maintained by creating new wealth through investment. He added that investments require a competitive economy, an economy that requires reforms.
Vincenzo Guzzo, the IMF`s representative in Cyprus, said the main challenges facing the island`s economy are demographics and weakening productivity, pointing out at the same time four key priority reforms for Cyprus.
Guzzo referred to lower fertility rates over the past 10 years that are not going to be better over the next year. As he said an ageing society will put pressure on pensions and health systems that can worsen the dynamics of the debt.
He referred to a weakening productivity growth in Cyprus and EU countries.
"The combination of unfavourable demographics and weakening productivity certainly dampen the prospects for potential growth in the medium terms", he said, adding that these prospects could lead to less incentives to invest.
Guzzo also said that structural reforms are so important because they play a critical role in translating the good signs of the economy into a more long-run growth.
Referring to four key priorities for Cyprus, he said that these are repairing the bank balance sheets and addressing NPLs, committing to a credible medium term fiscal consolidation that will help build a fiscal space to channel public money more productively towards investment. The other priorities should be eliminating product and labour market distortions and promoting policies that encourage investment in research and development and foster innovation.
Guzzo said that the IMF`s forecast for Cyprus is now 2,8% GDP growth for this year.
On his part, Daniel Daco, head of the European Commmission`s mission for Cyprus, pointed out that Cyprus has come a long way since the 2013 financial crisis and the 3-year economic adjustment programme.
"The situation has clearly improved, growth is much stronger, unemployment has fallen, bad loans are finally being reduced, confidence indicators are at their highest in years," he said, recalling that Cyprus showed strong growth rates, achieved fiscal consolidation without resorting to excessive tax burdens, whereas the baking sector is smaller with improved capital buffers.
He noted however that "Cyprus has not yet fully completed the necessary adjustment and it would be a risky mistake to think otherwise."
Moreover, Daco pointed out that growth is driven by an exceptional tourism season, investment is subdued.
"Cyprus is still vulnerable to shocks," he said noting that the factors supporting growth could fade away.
"The public debt is high and so are the contingent liabilities. There is just no fiscal place to weather another crisis. All these calls for cautious fiscal policy," he concluded./IBNA
Source: Cyprus News Agency