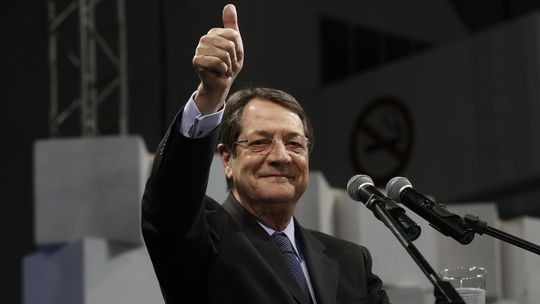 By Kyriacos Kyriacou – Nicosia
Cyprus President Nicos Anastasiades is to undergo surgery on his heart's mitral valve, the government said on Wednesday.
A written statement, Government Spokesman Nicos Christodoulides said that on Tuesday, Anastasiades, 68, had gone for a routine checkup, which had revealed the need for surgery.
"The operation will be performed in a short time," the statement said. Christodoulides did not given any further details.
The heart's mitral valve lies between the left atrium and the left ventricle. It makes sure that the blood keeps moving forward. Surgery is usually to repair or replace the valve. According to medical information minimally invasive mitral valve surgery can be done through several small cuts.
Anastasiades was forced to pull out of a key EU summit last month after suffering continuous nose bleeds, a result of high blood pressure, requiring him to spend two night in a Brussels hospital.
In June this year he also spent two nights at a private clinic with persistent symptoms of gastroenteritis.