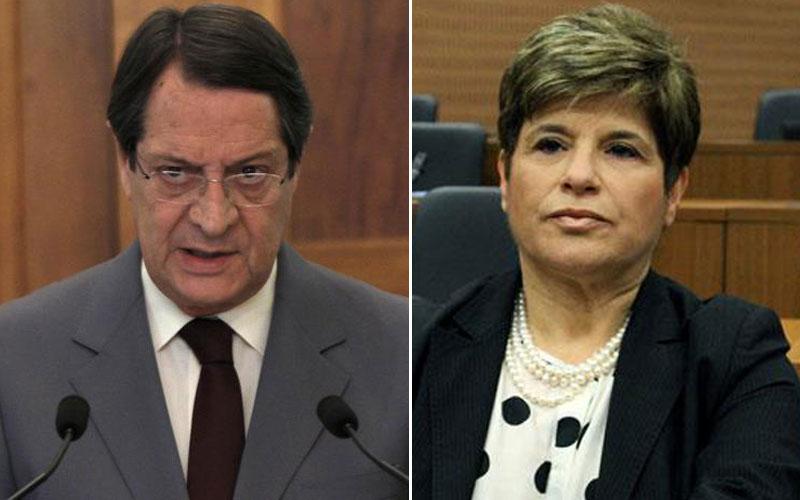 Nicosia, March 16, 2015/ Independent Balkan News Agency
By Kyriacos Kyriacou
President of the Republic of Cyprus Nicos Anastasiades will ask the Attorney General to examine the facts and mobilise the constitutional provisions for the removal of Central Bank Governor Chrystalla Georghadji.
Government Spokesman Nicos Christodoulides made the statement on Sunday evening after Georghadjis` meeting with the President earlier tonight and her statements to the press that she will continue exercising her duties as Governor of Central Bank of Cyprus.
Allegations made by a Member of the Central Bank of Cyprus` Board of Directors on Thursday before the House Ethics Committee have sent shock waves throughout Cypriot political circles and continue to reverberate.
Central Bank Board of Directors Member Stelios Kiliaris told the deputies that Central Bank Governor  Georghadji had during a Board of Directors meeting spoken of a list of MPs with non performing loans and of an alleged `bribe` of Deputy Attorney General Rikkos Erotokritou by Panayiotis Neocleous of the law firm Andreas Neocleous & Co.
The allegations prompted the President to hold a series of meetings over the weekend with state and parliamentary officials, political parties and Central Bank of Cyprus officials.
Spokesman Christodoulides said that the President has already informed the President of the European Central Bank Mario Draghi.
He said "the President of the Republic, with sadness, has ascertained that the Central Bank institution and its credibility have been seriously damaged".
The main reason, he said, is the continued issue of conflict of interest by Chrystalla Georghadji, which if he (the President) was aware of, wouldn't have appointed Georghadji to the post of CBC Governor".
A conflict of interest which based on Georghadji`s revised contract, is strictly prohibited and derives from the fact that Georghadjis` husband was and remains Andreas Vgenopoulos` lawyer, the Spokesman added. Vgenopoulos is former CEO of Marfin Laiki Bank.