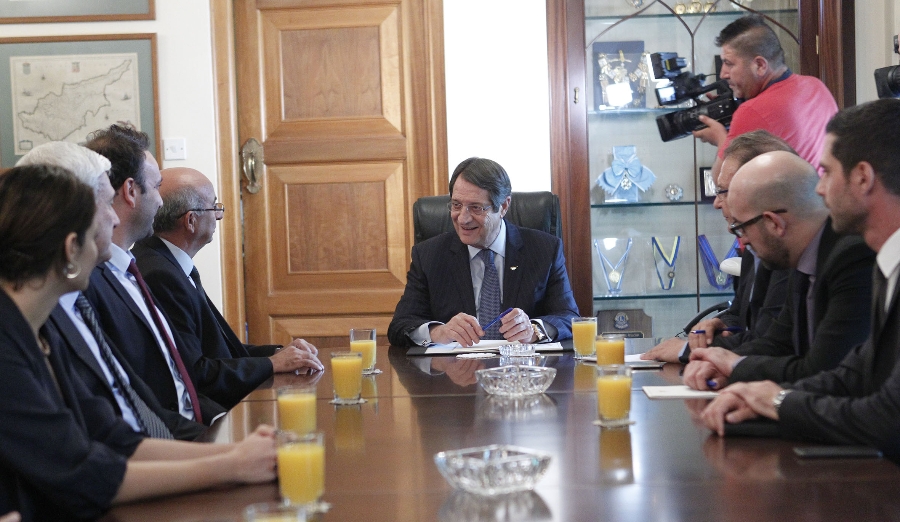 The Turkish Cypriot Communal Democracy Party will continue to support the solution of the Cyprus problem and work for a "yes" in a future referendum, party president Cemal Ozyigit has said.
A delegation of the Turkish Cypriot party was received on Tuesday by the President of the Republic Nicos Anastasiades and discussed the latest developments in the Cyprus issue.
In statements after the meeting, Ozyigit said that the two leaders are willing to solve the problem, they see both communities` needs and worries, they trust each other on the issue of guarantees and the territory, and they are willing to solve the problem before 2017. He added that they are also trying to find an acceptable to both communities solution.
Ozyigit said that as a political party they support "the cross-voting election for the President of the united island and rotation presidency."
"As a political party, we will continue to support the solution and will work to bring two yes on both sides. This is our duty and we invite all the solution supporters to work together and bring two yes in the referenda and reunite the island for peace in the future and for the next generations, not only for Turkish and Greek Cypriots but also for Maronites, Armenians and Latins in the island," he added.
Cyprus has been divided in 1974 when Turkey invaded and occupied its northern third. UN led peace talks resumed in May 2015 aiming to reunite the island under a federal roof./IBNA
Source: Cyprus News Agency
Photo: www.pio.gov.cy