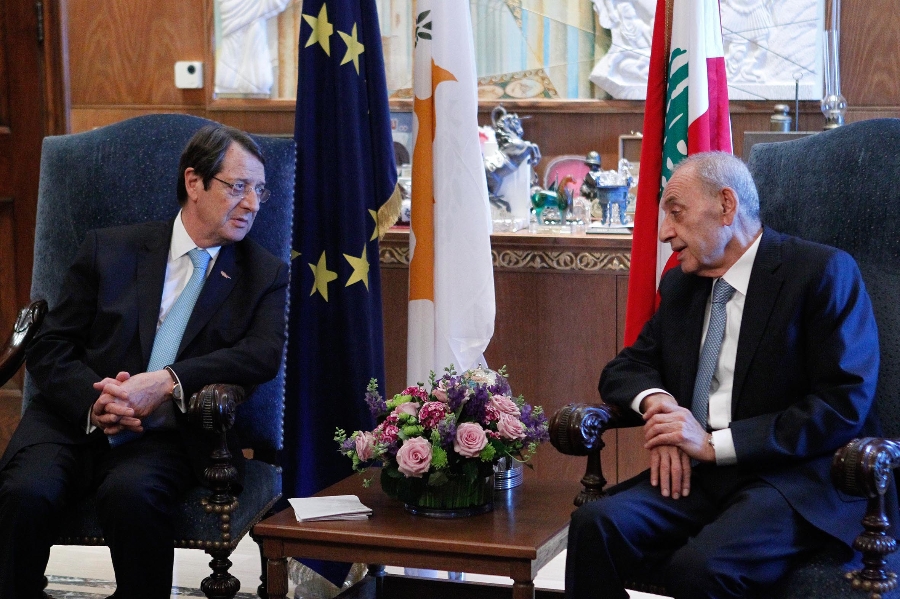 The President of the Republic, Mr Nicos Anastasiades, met today, in Beirut, with the Speaker of the Parliament of Lebanon Mr Nabih Berri, in the framework of his official visit to Lebanon.
The President, who was accompanied by the members of the Cypriot delegation, was officially received by Mr Berri while a military guard presented honours and the National Anthems of Cyprus and Lebanon were performed.
Afterwards, President Anastasiades and Mr Berri held a private meeting followed by an extended meeting with the participation of the delegations of the two sides.
In his remarks to reporters after the meeting, in the presence of Mr Berri, President Anastasiades said that "I had a meeting with the President of the House, a leader who is characterized by his braveness, by his leadership and by his decisiveness for the best interest of Lebanon.
I am so delighted because we had the opportunity to cover all issues which are interrelated or are of mutual interest, especially Energy, the Economy, the problems of the region, the Cyprus question, the Middle East question as well as the situation in Syria, the humanitarian tragedy.
I am so happy because once again we have reaffirmed our excellent relations as well as our decisiveness to continue cultivating and enhancing these excellent relations, and we are looking forward to see how – through the new roads we are opening with the trilateral cooperation among Greece, Cyprus and Lebanon – to face challenges which are common but, at the same time, will give answers to the problems we are facing for the best interest of the people, for the prosperity of our people."
Concluding, the President said that he looks forward to seeing Mr Berri in Cyprus./IBNA