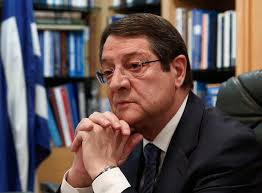 By Kyriacos Kyriacou – Nicosia
President Nicos Anastasiades is scheduled to meet Tuesday afternoon UN Secretary General`s Special Adviser on Cyprus Espen Barth Eide, at the Presidential Palace.
The spokesman of the UN Good Offices Mission Michel Bonnardeaux has told the Cyprus News Agency, Espen Eide expects to get an official response to his proposal with regard to the management of the issue of hydrocarbons.
To a remark that the Greek Cypriot side has rejected the proposal, as it has been made known after a meeting of the political leaders council, chaired by President of Cyprus Nicos Anastasiades, 
Bonnardeaux said that "it`s been rejected publicly, but nobody sat down and explained to him, so I think he` ll be looking for that."
The leaders of the parliamentary parties will meet with the President on Tuesday ahead of his meeting with the UN Special Envoy.
During his visit to the island, which started on Monday, the UN diplomat will also have a meeting with Turkish Cypriot leader Dervis Eroglu on Wednesday morning.
He will also hold meetings with the two sides` negotiators and with political party leaders. More specifically, he will meet with the leaders of the Democratic Party (DIKO), the Social Democrats Movement EDEK, the Green Party and the Alliance of Citizens while he will also have meetings in the occupied areas with the Turkish Cypriot Democratic Party and the Turkish Cypriot Republican Turkish Party.
Moreover Eide will meet Ambassadors and will have a dinner with the Gender Advisory Team. He will also meet with academics. He will leave the island on Friday.
Cyprus has been divided since 1974, when Turkish troops invaded and occupied 37% of its territory. President Anastasiades decided to suspend his participation in the UN backed negotiations for a solution to the Cyprus problem, after Turkish seismic exploration vessel Barbaros entered last month Cyprus` Exclusive Economic Zone a few days after Turkey had issued an illegal maritime order (NAVTEX) for the area.
President to undergo surgery in NY
Nicos Anastasiades departs on November 29 to the United States for a heart operation, an official statement issued by Government Spokesman Nicos Christodoulides on Tuesday morning says.
Cyprus President on Thursday, December 4, is set to undergo mitral valve repair surgery. The President is expected to return to Cyprus before the Christmas holidays.