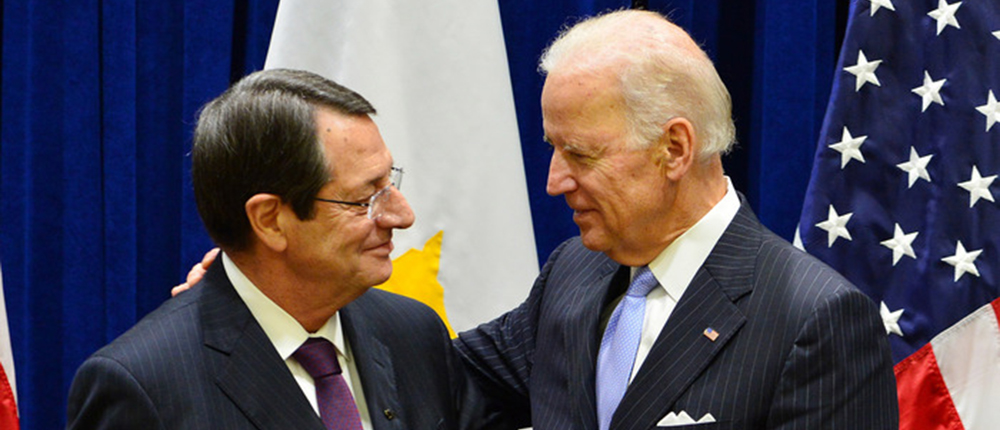 Cyprus President Nicos Anastasiades had on Wednesday afternoon a telephone conversation with US Vice President Joe Biden, whom he briefed on the discussions on Cyprus that took place last week in Geneva, and more specifically on the positions which Turkish Foreign Minister Mevlut Cavusoglu expressed during the Conference on Cyprus which addressed the issue of security and guarantees.
CNA has learned that Anastasiades thanked Biden for his continuous interest in efforts to solve the Cyprus problem, while on his part the US Vice President assured Anastasiades that he will continue to follow developments even when the Obama administration term in office is over, without ruling out the possibility of getting again in the future engaged in efforts to solve the problem.
Cyprus has been divided since 1974, when Turkish troops invaded and occupied 37% of its territory. A new UN-led effort to reunite the island has been under way since May 2015.
President Anastasiades and Turkish Cypriot leader Mustafa Akinci continued their negotiations on pending issues of the internal aspects of the Cyprus problem, in Geneva on January 9-11, while a Conference on Cyprus took place there on January 12.
The Conference on Cyprus which convened under the auspices of the Secretary-General of the United Nations, with the participation of Cyprus leaders` Nicos Anastasiades and Mustafa Akinci, the Foreign Ministers of Greece, Turkey and the United Kingdom as guarantor powers and in the presence of the European Union as an observer, decided to establish a working group at the level of deputies with the task to identify specific questions and the instruments needed to address them. The working group began its discussions in Mont-Pelerin on January 18 and is expected to conclude them on January 20.
Moreover the Conference on Cyprus decided that the Conference will continue at political level immediately thereafter to review the outcome of the working group's discussions and that in parallel, the negotiations on outstanding issues in the other chapters will continue between the two sides in Cyprus./IBNA
Source: Cyprus News Agency