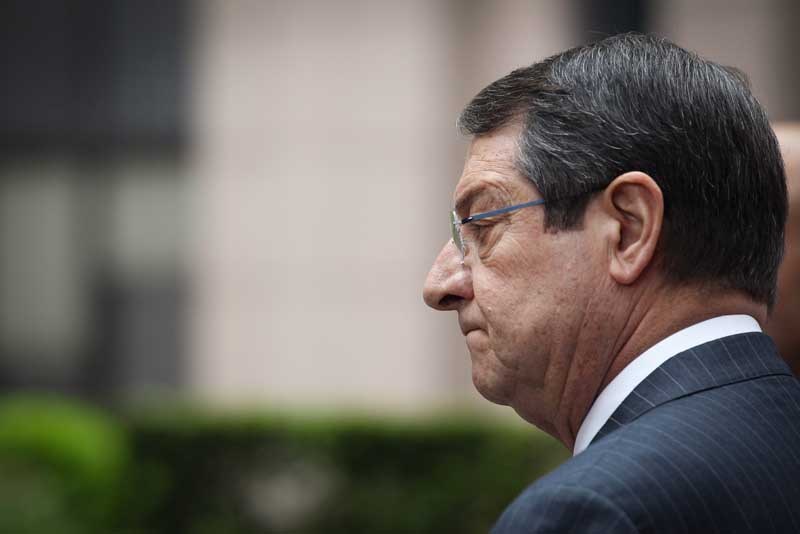 By Kyriacos Kyriacou – Nicosia
Cyprus President Nicos Anastasiades said on Sunday he would not return to the negotiating table under conditions of blackmail, noting that the Greek Cypriot side wants to engage in peaceful talks rather than in a dialogue under the threats of Turkish warships.
Cyprus has been divided since 1974 when Turkey invaded and occupied its northern third. Nicos Anastasiades has announced his decision last week to suspend his participation to the UN backed negotiations which aim to reunify the island under a federal roof, following Turkey`s most recent violation of Cyprus` sovereign rights in its Exclusive Economic Zone (EEZ) and its decision to carry out a seismic survey in specific blocks, assigned to international companies within the Republic of Cyprus` EEZ.
In his speech at the 34th anti-occupation rally, organised by the Turkish occupied municipality of Morphou in the village of Astromeritis, Anastasiades noted that Turkey`s recent provocative actions in Cyprus` exclusive economic zone "undermine the efforts to reach a just, viable and functional solution of the Cyprus issue".
The President noted that he expects Cyprus` allies to influence Turkey to restore the climate for peace talks.
"Unfortunately, the attitude of Mr. Eroglu and the recent actions of Ankara against the internationally recognized sovereign rights of the Republic (of Cyprus), left me with no other choice but to suspend our participation in the negotiating process" the President said.
He noted that he is ready to do his utmost for the solution of the Cyprus problem and the reunification of Cyprus, but "I will not enter into negotiations under conditions of blackmail. We want peaceful talks and not a dialogue under the threat of Turkey's warships".
The people of Cyprus "need to be persuaded that trust and faith between the two sides should and must be restored. However, Turkish Government's recent decisions and intentions, as they are being demonstrated, do not contribute to achieving this goal", the President said.
"What we need right now is the implementation of measures to restore confidence, not measures that increase mistrust among the lawful citizens of the island, through actions that violate international law" he noted.
He also stressed that "I have repeatedly stated that the natural wealth belongs to the state and the finding of a solution will help so that all the people of Cyprus benefit from it.
Anastasiades said he expects Cyprus` friends and allies, "whom Turkey tirelessly assures of its good intentions with regard to the Cyprus problem, to do their share and exert their influence" in order to restore the climate needed for constructive, substantial and fruitful talks on the Cyprus problem.