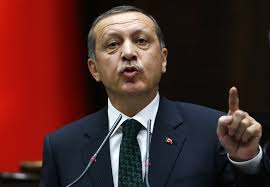 By Kyriacos Kyriacou-Nicosia
Cyprus President Nicos Anastasiades said on Tuesday he hoped Ankara would change its stance in the peace talks between the Greek and Cypriot sides for the unification of the island. The President denounced recent Turkish calls for two states in Cyprus, which is divided since the 1974 Turkish invasion. Anastasiades was responding to remarks by Turkish President Tayyip Erdogan who, while on a visit to the Turkish occupied North part of Cyprus on Monday, spoke of a settlement involving two founding states and political equality.
On Monday the government condemned the visit and said the comments the Turkish president made were not in line with UN resolutions. "Everyone must know that Turkey will never accept a Greek Cypriot government that turns Turkish Cypriots into a minority," Erdogan had said.
Erdogan added that the Turkish government "fully supports the efforts of the Turkish Cypriot side for a bicommunal (federation), political equality, two founding states, in a new co-operation on the basis of the UN parameters."
Anastasiades responded by saying: "I hope the other side comes to realise, if indeed it means what it says, that methodology, via the proposals being submitted, cannot be the pretext for a new deadlock that would validate the Turkish side's Plan B."
"Disappointing remarks"
Anastasiades described Erdogan's remarks as disappointing. "We had expected the Turkish government to put on display its ostensible determination to help solve the Cyprus problem. But with these comments, I am sorry to say that… they disappoint all those who invested in Mr. Erdogan."
Asked why Erdogan has publically denied receiving a letter from him, Anastasiades speculated it was likely because the Turkish leader did not wish to acknowledge or legitimise the President of the Republic of Cyprus.
Turkey is the only United Nations member that does not recognise the Cyprus Republic.
Meeting with UN official
Asked about the next steps in the peace talks, Anastasiades revealed that on Friday he will have his first meeting with the UN Secretary General's new special representative on Cyprus, Espen Barth Eide. He will also meet with the UN Secretary General in New York while attending the UN General Assembly which convenes on September 16.  Anastasiades hopes for an increased foreign involvement in the Cyprus issue.